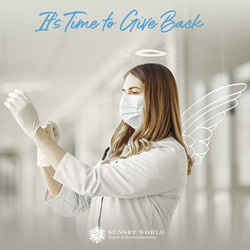 CANCÚN QUINTANA ROO, Mexico (PRWEB) June 12, 2020
In the midst of the difficult COVID-19 worldwide pandemic, Sunset World Group recognizes the heroic battle that doctors and nurses are waging against the virus, which is the reason behind their "It's Time to Give Back" campaign... to honor healthcare workers when they can finally take the time to rest.
The campaign offers any healthcare professional an exclusive rate, the lowest rate available, so that they can enjoy a well-deserved vacation with their loved ones. Sunset World Group members who are healthcare professionals will obtain an 8-night / 7-day stay with all-inclusive plan at their home resort completely free of charge, plus a 10% discount for a companion, to travel between July 2020 and November 2021. When reserving all healthcare workers must show their valid professional ID.
"The first thing we want to do when reopening our hotels is to reward health professionals in some way for the intense battle that they are waging at the moment," said Annie Arroyo, Sunset World Group Brand and Communication Corporate Director, "We want to let them know that we appreciate their profession and courage. We hope to see them soon to pamper them while they take a break in Cancun or the Riviera Maya," she concluded.
Sunset World Group is a family-owned Mexican company and a leader in the hospitality industry, offering authentic and unforgettable vacation experiences in Cancun and the Riviera Maya. It was founded more than 30 years ago and has grown to offer six resorts, world-class travel services, amenities and a diverse network of operational and marketing solutions that focus on providing the best vacation experiences for its Members and guests. From cultural excursions to water sports, the Members of Sunset World are never far from their next great adventure.