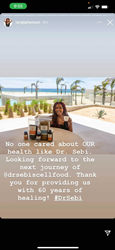 LOS ANGELES (PRWEB) February 01, 2021
"During her Los Cabos vacation, Taraji P. Henson stayed young and healthy with Dr. Sebi's Cell Food, including their line of wellness teas and supplements," reported EXTRA TV, referring to an Instagram Story the acclaimed actress published to her account, followed by 16.8m people, the morning of Wednesday, January 20, 2020.
The image, published online in a feature entitled "How Stars Are Social Distancing During the Coronavirus Pandemic," features the award-winning actress with a collection of Dr. Sebi's Cell Food products, accompanied by the caption, "No one cared about OUR health like Dr. Sebi. Looking forward to the next journey of @drsebiscellfood. Thank you for providing us with 60 years of healing! #DrSebi".
In shouting out the brand's "next journey," Henson refers to the newly designed packaging Dr. Sebi's Cell Food has recently unveiled, coinciding with the relaunch of their website.
Dr. Sebi's Cell Food was established by Dr. Sebi, born Alfredo Bowman, whose interest and longtime study of the healing properties of plants led him to develop the African Bio-Mineral Balance Diet, including guidelines for an alkaline diet and nutritional supplements that offer profound nourishment for all people.
Notable followers of Dr. Sebi's included high profile clientele including Michael Jackson, Eddie Murphy, John Travolta, Lisa "Left Eye" Lopes of TLC; and the brand has garnered new fans that include Henson as well as Cedric The Entertainer, Fonzworth Bentley, and Kat Von D.
Dr. Sebi's Cell Food products visible in Henson's post include the brand's signature Estro, a natural supplement that supports female reproductive health and hormonal balance; Banju, a tonic is rich in potassium phosphate to replenish minerals and antioxidants; and Immune Support Tea, packed with the antioxidant-rich elderberry, one of nature's most versatile traditional remedies.
About Dr. Sebi's Cell Food
Dr. Sebi's Cell Food is a distinguished producer of plant-based supplements for those seeking positive pathways to improving their lives. They offer natural botanical compounds based on the formulations of their founder, Dr. Sebi, who began creating his own natural plant-based compounds over 60 years ago . In 2014, Dr. Sebi established Dr. Sebi's Cell Food,which continues his commitment to providing natural ways to help people live a better life. Subscribe to the Dr. Sebi newsletter at drsebiscellfood.com, or follow us on Instagram at @drsebiscellfood.