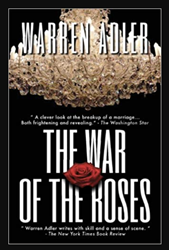 A special 40th year edition of the worldwide bestseller, The War of the Roses, is being rereleased on Amazon to help to help flatten the curve on divorce, the ultimate cautionary tale.
WASHINGTON (PRWEB) December 11, 2020
Warren Adler's iconic cautionary tale of warring spouses, The War of the Roses, has kept divorcing couples terrified for 40 years. The novel's title in America's lexicon has become synonymous with scorched earth separations. With the recent massive spike in new divorces brought on by the pandemic according to a BBC study, the time is ripe for the world to reintroduce themselves to the best-selling book, or perhaps take in a new screening of the adaptation of the classic novel that stars Michael Douglas and Kathleen Turner. One can only help but wonder why? Since the original book was published as a cautionary tale, divorce rates had declined by the end of the 80s for the first time—and have been diminishing ever since.
A special 40th year edition of the worldwide bestseller, The War of the Roses, is being rereleased on Amazon to help flatten the curve on divorce. To aid in the good fight, actor and director Jason Alexander will direct a Broadway play penned by celebrated writer Peter Tolan. The show is slated to debut when Broadway reopens. Soon after, a star-studded movie remake will debut as well as a sequel, called The Children of the Roses, which is currently being adapted into a television series.
To celebrate the novel's 40th anniversary, the author's family has assembled the top 40 unblissful romances of all time that succumbed to epic, bitter divorces.
Top 40 Most Unblissful Romances
1. Vladimir Putin and Lyudmila Putin
2. Prince Charles and Princess Dianna
3. Donald Trump and (Ivana, Marla)
4. Jeff Bezos and Mackenzie Bezos
5. Jennifer Aniston and Brad Pitt
6. Angelina Jolie and Brad Pitt
7. Prince Andrew and Sarah Ferguson
8. Sonny and Cher
9. Sumner Redstone and Phyllis Redstone
10. Silvio Berlusconi and Veronica Berlusconi
11. Tom Cruise and Katie Holmes
12. Anthony Weiner and Huma Abedin
13. Kim Kardashian and Kris Humphries (72 Days)
14. John Edwards and Elizabeth Edwards
15. Larry King and (Freda, Annette, Alene, Mickey, Sharon, Julie, Shawn)
16. Lance Armstrong and Sheryl Crow
17. Matt Lauer and Annette Roque
18. Linda Hogan and Hulk Hogan
19. Lionel Richie and Diane Alexander
20. Tiger Woods and Elin Nordegren
21. Denise Richards and Charlie Sheen
22. Jon Gosselin and Kate Gosselin
23. Liza Minnelli and David Gest
24. Khloe Kardashian & Lamar Odom
25. Rudy Giuliani and Donna Hanover
26. Demi Moore and Ashton Kutcher
27. Billy Joel and Christie Brinkley
28. Christie Brinkley & Peter Cook
29. Arnold Schwarzenegger and Maria Shriver
30. Wendy Williams and Kevin Hunter
31. Johnny Depp and Amber Heard
32. Gwen Stefani and Gavin Rossdale
33. Mike Tyson and Robin Givens (8 Months)
34. Ron Perelman and Ellen Barkin
35. Mick Jagger and Jerry Hall
36. Heidi Klum and Seal
37. Steve Wynn and Elaine Wynn
38. Joan Collins and (Maxwell, Anthony, Ron, Peter)
39. Bobby Brown and Whitney Houston
40. Dr. Dre and Nicole Young
The War of the Roses is one of 50 novels from Warren Adler, many currently being developed for film, television, podcast, and live stage. His complete library can be found at: http://www.warrenadler.com. The intellectual property is managed by Adler Entertainment Trust. The managing director is Jonathan Adler. For more information go to http://www.adlerentertainmenttrust.com or reach Jonathan at jonathanradler@adlerentertainmenttrust.com.