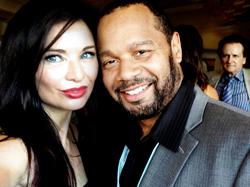 Congratulations to all the cast and crew for WINNING the 'Storytelling Achievement' award at the 2014 Laughlin International Film Festival. All our hard work has really paid off.
Los Angeles, California (PRWEB) November 03, 2014
The Long Wait, a short film by award-winning writer/director Wolfgang Bodison (A Few Good Men, ER, CSI: NY/Miami, NCIS) and lead actress Elizabeth Yoder (Grace), took the coveted "Storytelling Achievement" award at the 2014 Laughlin International Film Festival. This accolade is the latest in a series of honors bestowed by international festivals, audiences and critics, including Playhouse West Film Festival's prestigious "Best Director" award for Bodison, "Best Actor" and "Best Short Film" awards at the 2014 Beaufort International Film Festival and "Best Actress" at the Jersey Shore Shorts Film Festival for Yoder.
Bodison and Yoder's creative collaboration began at Playhouse West in Los Angeles, where the two discovered they shared the same wound; losing their fathers to car accidents as children.
"Working on this project let us explore a myriad of complex emotions that have been churning since our worlds were first impacted," says Bodison. "Grief and anger, if not properly addressed, can fester into dysfunction and lead to a life of constant suffering – not only for Elizabeth and I, but for the two men behind the wheels of those cars. It's a complicated situation, one I enjoyed exploring."
"Working with Wolfgang was incredible," Yoder recalls. "He made the writing process easy. What we shared was an understanding of how devastating these unresolved emotions can be, especially through the lens of childhood. After my 24 year quest for solace, understanding and redemption, it's been enormously cathartic."
Bodison and Yoder are building on the film's critical acclaim, developing it into a feature-length screenplay to generate further momentum for their labor of love.
"It's a story of forgiveness," Bodison explains. "Winning the 'Storytelling Award' means a lot because, as writer and director, my job is to tell a great story. This recognition is a huge personal achievement."
In the spirit of helping others find closure, Elizabeth founded the non-profit Elevating Hope, a charity dedicated to providing support for people suffering from the death of a loved one. The themes touched upon in The Long Wait reflect the charity's mission and Yoder is proud of this, the latest of more than 80 credits as an actor and filmmaker.
About Wolfgang Bodison
Wolfgang Bodison is best remembered for his performance as Lance Corporal Harold Dawson in the critically acclaimed, Rob Reiner film, A Few Good Men. Most Wanted, Freeway, Joe Somebody, and Legacy are just a few of his ever-growing film credits. He recently starred in the independent features: THE APPEARING, RAGAMUFFIN, VERTICAL, and PRETTY ROSEBUD. Television credits include recurring roles on "Nothing Sacred" and "Family Law," as well as guest-star appearances on hit shows such as "CSI: NY," "CSI: Miami," "NCIS," "Cane," "ER," "The Wedding Dress," and "Perception." The past several years, Wolfgang has transitioned to filmmaker by writing and directing the short films, SIMONE, BROKEN, SARAH'S WISH, and THE LONG WAIT, all of which have screened in major festivals worldwide.
Follow Wolfgang Bodison on twitter
About Elizabeth Yoder
Yoder's journey to Hollywood began with humble origins. Born and raised in Indiana on her German/Swiss 1800's family homestead hailing from both the Amish and Mennonite lineage, Yoder lived in a community where television and radio was taboo. As she matured, she gradually became aware of a mysterious progressive world outside her strict upbringing and the faraway glow of television transformed into the beckoning lights of Hollywood. Drawing has won awards from festivals as Grace in The Long Wait film including "Best Actress" at the Jersey Shore Shorts Film Festival, "Best Actor" at the 8th Annual Beaufort International Film Festival and the Ribaut Award for "Best Short Film", and "Best Director" at the 18th Annual Playhouse West Film Festival. Ms. Yoder was nominated again for "Best Actress" alongside screen icon Shirley MacLaine at the Hill Country Film Festival, and shares the most recent win of 'Storytelling Achievement' award.
"Like" Elizabeth Yoder fan page on facebook
About Elevating Hope
Founded by Elizabeth Yoder, a 501(c)(3) charity organization that is dedicated to the support and empowerment of those whose emotional lives have been shattered by the death of someone close.
"Like"Elevating Hope on facebook and follow on twitter.