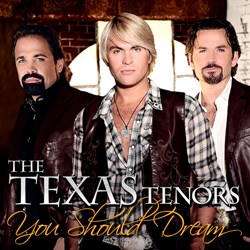 Houston, TX (PRWEB) December 11, 2013
Over 100 million people from around the world tuned in to see The Texas Tenors become "the #1 vocal group in the history of "America's Got Talent." Winning the hearts of millions, The Texas Tenors burst onto the national scene and never looked back. Since then, the group has performed more than 600 concerts around the world.
In their first PBS special, You Should Dream, performing with a symphony orchestra, The Texas Tenors bring their own signature blend of breathtaking vocals, humor, harmony and cowboy charm. This charismatic and talented trio — Marcus Collins, John Hagen and JC Fisher — smoothly blend great music from the worlds of country, classical, gospel and Broadway.
The Texas Tenors' sophomore album, You Should Dream, drops December 10, 2013 worldwide and is available online from iTunes and also at your local Wal-Mart. The Texas Tenors' debut album Country Roots – Classical Sound soared to #1 on both classical and country charts in 2010, and remains a strong seller.
You Should Dream special recently debuted nationally and will continue to air through 2014.
You Should Dream CD can be purchased from the following retailers:
Wal-Mart: check your local store locations
Amazon.com: http://www.amazon.com/You-Should-Dream-Texas-Tenors/dp/B00FK3WC2Q/ref=sr_1_1?ie=UTF8&qid=1386621122&sr=8-1&keywords=The+Texas+Tenors
iTunes:https://itunes.apple.com/us/album/you-should-dream/id761630210
PBS National TV schedule - http://thetexastenors.com/the-texas-tenors-you-should-dream-pbs-special.
Check your local listings for exact dates and times.
For additional information or questions, visit http://www.thetexastenors.com or email info(at)thetexastenors(dot)com