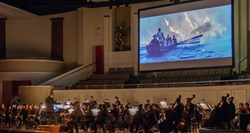 John's music is often memorable because he writes tuneful melodies that are lyrical, soaring, riveting and connect the listener emotionally with the visual aspect.
Newport, KY (PRWEB) April 30, 2014
The Kentucky Symphony Orchestra concludes its 22nd season with a salute to the de-facto dean of film score composers. John Williams' career has spanned more than 60 years and his efforts in television and film have emphasized the significance of the film score as a musical genre, comparable to other classical forms — symphony, concerto and opera — of the 18th through 20th centuries. Williams' contributions were important even prior to his noted 40-year association with director Steven Spielberg.
Following in the footsteps of his musician father, Johnny Williams' interest in both classics and jazz afforded him many opportunities in both New York and Hollywood. By age 24 Williams was a staff arranger for Columbia Pictures before joining 20th Century Fox. He was also a studio pianist for Doris Day, Vic Damone and Frankie Laine. During the 1960s Johnny Williams composed mostly for television writing theme and episode music for the Irwin Allen Sci-fi shows Lost in Space, Land of Giants and The Time Tunnel. (plus film scores for Allen's early 1970s disaster films — The Towering Inferno and The Poseidon Adventure).
Williams' film adaptation for the musical Fiddler on the Roof earned Williams his first of five Oscars (41 nominations). The Steven Spielberg association came shortly thereafter with Jaws (1974), followed by work with George Lucas on Star Wars (1977) and Raiders of the Lost Ark (1981). John Williams was atop the A-list of film score composers.
John Williams work as music director of the Boston Pops (1980-1993) allowed him to focus on composing works other than just film scores. Williams has written a concerto for every instrument in the orchestra, as well as commissions for special events like the Olympics and the re-dedication of Statue of Liberty. At age 84, John Williams continues to add to his impressive catalog. John's sons Mark (music producer / drummer for Air Supply) and Joseph (lead vocalist with Toto) have pursued successful musical career paths as well.
The KSO will feature some of its own principal players in its tribute to Mr. Williams and his music. In addition to the popular and melody-driven excerpts from Superman, Star Wars, ET and Jurassic Park), KSO music director James Cassidy has reached back to the 1971 Fiddler on the Roof adaptation which will feature KSO concertmistress, Manami White. An excerpt from the 2011 War Horse soundtrack will feature a KSO charter member and principal flutist, Susan Magg.
KSO Music Director James Cassidy recently commented: "Mr. Williams' music denotes how a quality film score enhances the story, and plays such a vital role in the success of a film. John's music is often memorable because he writes tuneful melodies that are lyrical, soaring, and connect the listener emotionally with the visual aspect of the film. I bet that most people can hum at least 4-5 different John Williams tunes off the top of their head. Now, try to do that with another film score composer. Would Jaws or Star Wars have been blockbusters without Williams' scores?" I believe they are interdependent."
The KSO's excursion through John Williams' Wondrous World will include favorites as well as interesting off-the-beaten-path surprises. (The KSO performed Mr. Williams' "Prelude and Fugue", written for Stan Kenton's LA Neophonic Orchestra in 1965, on the KSO's 2012 program —"The KSO Goes Neophonic.")
In its 22nd season, the KSO saw some of its largest indoor subscription series audiences with performances that included Verdi's 200th birthday bash, the U.S. orchestral debut of 2CELLOS, and a collaborative production of The Sound of Music. The Williams tribute program concludes another successful season thanks in part to KSO subscription series presenter PNC Bank.
Williams' Wondrous World is presented one night only! Join music director James Cassidy and the KSO for this Williams fan-fest at 8 p.m., Saturday, May 10 at the Florence Baptist Church at Mt. Zion. Tickets are $35, $27 & $19 (children 6-18 are 50% off) and are available on-line, http://www.kyso.org, by phone (859) 431-6216 or at the door.
About the KSO:
The Kentucky Symphony Orchestra takes the "phony" out of symphony through its people-friendly, thematic concerts that culturally enrich, educate and entertain the residents of Northern Kentucky and Greater Cincinnati. The KSO performs throughout Northern Kentucky offering three series of concerts, for the schools, in the parks and various indoor venues across the northern three counties.