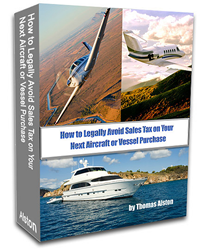 AERO&MARINE covered planes like the one I purchased and seemed to match up pretty well with what I needed.
Sacramento, CA (PRWEB) February 25, 2016
Sacramento, CA: AERO&MARINE Tax Professionals, (http://aeromarinetaxpros.com/), an aircraft tax specialist firm, recently assisted Medical Device Manufacturing in supporting a claim for a use tax exemption on the purchase of a Cessna 210, saving them approximately $13,000.00 in aircraft tax.
A representative from the company stated: "We manufacturer devices for the medical industry. Our intent is to improve patient recovery particularly after vascular surgery. The devices are made to decrease hospital cost and patient recovery times. My company, like many new companies, is dispersed. We are more virtual than we are able to meet face to face. When we have to meet face to face one of us has to travel if not all of us to be in the same room together, and some of our clients are not easily accessible through commercial airlines.
"I did a lot of research to find them, and AERO&MARINE covered planes like the one I purchased and seemed to match up pretty well with what I needed. I waited until three months after I had purchased the aircraft, and I would not recommend that. I would recommend getting involved with your firm from the beginning, for the purchase. It took me a couple of months to motivate me to call.
"The process started out fairly frightfully. I did not realize how much would be required and what kind of documentation would be required. After the initial moment of terror my consultant worked with me and I think we did a bang up job on all of the requirements. I would absolutely recommend you to others."
Tom Alston, founder and CEO of AERO&MARINE Tax Professionals stated: "We were very happy with the outcome for this client. This case went very well, and we look forward to working with them in the future when they purchase a new aircraft."
AERO&MARINE Tax Professionals shows purchasers how to avoid aircraft tax and vessel tax in California and to make certain the full value of their next aircraft, vehicle, or vessel goes into their pocket—not the government's. They have successfully filed hundreds of tax returns with the California State Board of Equalization. Mr. Alston has also published many articles on sales and use tax. His blog can be seen at http://aeromarinetaxpros.typepad.com Tom Alston wrote a book "How to Legally Avoid Sales Tax on Your Next Aircraft or Vessel Purchase" and in his book Tom gives the exact strategy he used.
Thomas A. Alston
President and CEO
Aero&Marine Tax Professionals
8758 Freesia Drive
Elk Grove, CA 95624
916-691-9192 ext 108
916-691-9185 Fax
916-769-6304 cell
http:/aeromarinetaxpros.com