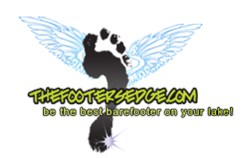 The Footer's Edge new Barefoot Boom can teach anyone how to barefoot waterski. Detailed information is available online at http://www.thefootersedge.com.
Winter Haven, Florida (PRWEB) August 08, 2013
There's no "Great American" novel on Waterskiing. But Lane "Dawg" Bowers has written the greatest instruction manuals you're likely to find. And now, those instruction manuals, combined with the Barefoot Boom make it possible to transform anyone from 4 years old to 400 pounds into a barefooting expert.
Not content to sell amazing equipment (including the fly high fat sac ballasts, which fit any boat and the tsunami pumps that can fill them near-instantly), Bowers has an ebook, an array of video lessons, and an email blast.
The Winter Haven, FL based CEO is a modern day Socrates of water sporting. It's no wonder he's had clients ranging from military personal to someone you might not expect...former presidential candidate Mitt Romney.
Mitt Romney, previously governor of Massachusetts, might be a hard sell (even though his colleague John Kerry is a notorious windsurfer). But when the family-first Romney gets involved, you know you've found a product for all ages. Bowers claims he can teach anyone to water ski. "I can teach anyone [to waterski barefoot…] from 4 years old to 400 lbs, without falling."
And with his wealth of tutorials, he may be on to something. Perhaps he learned his inspirational techniques from client Tony Robbins. Or perhaps it's his decade and a half of barefoot water skiing experience. (Again, the fat ballast sacs help, but it's fair enough since he sells them!)
In the words of Canada-dwelling fan Mike Strubble, "I wish I would have obtained this knowledge when I began!" Mike is no amateur…an FSU alumni, he also served as the Canadian representative on the World Barefoot Council! Bowers teaches all the tricks on reversals, alis, knee skiing and front-to-toes. His tips will even help you drive the boat!
Of course, if you want to succeed big time, you'll want the supplies he recommends. His patented fat ballast sacs use lake water to create ballast, so you won't drag extra baggage to the lake. And his wakeboarding towers are guaranteed to last a lifetime without cracking.
Whether you're tooling around on the lake or want to join the United States World Championship Barefoot Water Ski Team (yes, it exists), then The Footer's Edge and "Dawg" Bowers have the techniques and technology to get you there.
The Footer's Edge can be reached at http://www.thefootersedge.com, or by phone 1-877-685-6270 x8 or direct 1-863-268-0111.