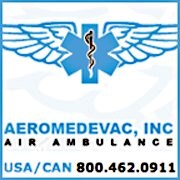 Aeromedevac has expanded their global air ambulance service and is now providing emergency medical flights to anywhere in the world. Detailed booking information is available online at http://www.aeromedevac.com.
San Diego, California (PRWEB) August 14, 2013
Leading international air ambulance service Aeromedevac has announced that they are now offering air ambulance medical flights to any location in the world. We've all heard the horror stories a million times, a dream vacation to a fantasy location in a country far from home that suddenly takes a traumatic turn. Whether it's an accident or a health emergency, the last thing a person suffering from a medical emergency wants is to be stranded in a foreign country. Now, with Aeromedevac's expanded global service, Americans can travel the world with the reassurance of knowing that they've always have a friend to get them home.
With more than 20 years of experience, Aeromedevac has an impeccable reputation as being the absolute best air ambulance service in the industry. With their state of the art fleet of fixed wing flying ambulances, Aeromedevac is capable of performing emergency medical flights to and from anywhere in the world.
Aeromedevac are known throughout the air ambulance industry as experts at providing medical transportation for ill or injured individuals, family members, managed care companies, hospitals, military, and governmental embassies and agencies. Their San Diego-based California air ambulance operation arranges ground transportation and delivers the highly specialized care and necessary incidentals for safe and successful transportation.
Each of their planes is a virtual flying emergency room that enables their specialized crews of registered nurses, critical care paramedics and other medical personnel to properly care for patients in any medical condition. Aeromedevac specializes in medical flights for organ transplants, cancer treatments, advanced head trauma and spinal injuries, and any other serious medical conditions that require expedited medial air ambulance transportation.
Aeromedevac is proud to be a founding member of the International Air Ambulance Alliance-Fixed Wing (IAAA), and is also accredited by the European Aero-Medical Institute, the leading accreditation body for U.S. and European air medical evacuation providers.
Full details of Aeromedevac's air ambulance services can be obtained online at aeromedevac.com or by calling 619. 284.7910 or 800.462.0911 in the U.S. or Canada, 1.619.284.7910 outside of North America, and 001.800.832.5087 in Mexico.