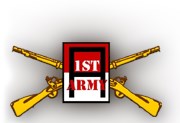 1st Army Supply carries a wide range of military and law enforcement supplies for consumers, as well as headwear, footwear, bags, patches and insignias. https://www.1starmy.com
Lombard, Illinois (PRWEB) August 19, 2013
Military supply store 1st Army Supply knows what veterans need. That's because it was founded by a veteran, Michael Bafundo in 1982. Since its founding, 1st Army Supply has been a mainstay of the community, the number one place for army supplies in the greater Lombard region.
Recently, 1st Army matched their customers' donation to the Wounded Warrior project. The Wounded Warrior project aims "to foster the most successful, well-adjusted generation of wounded service members in our nation's history." To that effect, they provide "unique, direct programs and services to meet the needs of injured service members." 1st Army also gives a 10% discount to veterans.
Of course, it's not just veterans who shop at 1st Army. They're also an official Department of Defense supplier, and sell to EMTs and SWAT teams across the world. Not many stores can make that claim.
The store offers a range of military and law enforcement supplies for consumers, as well as headwear, footwear, bags, patches and insignias.
The army surplus supply store itself is 5,000 square feet and has over 10,000 items including a huge selection of more than 2,000 military patches and 2,000 military pins. There isn't much you can't get there, which is why the customer base is so large. "I have never regretted a purchase from this place!" said Dave B on the page's Yelp page. And if you're not in the area, the store offers free shipping to every state except Alaska and Hawaii, so people all across the country can help give back to our nation's troops.
After opening 1st Army Supply, Bafundo brought on Andrew "Doc" Miller. Doc has been a hit with everyone seeking army supplies since day one and is known for his spot on personal recommendations that go hand in hand his endless supply of classic jokes.
1st army is in the tradition of military supply stores, selling army surplus goods to the civilian and post-military markets. One niche you might be surprised about is their zombie apocalypse goods. The normal helmets and KA-BAR knives are joined by survival spears and katanas.
1st Army Supply, which is located at 310 West Roosevelt Rd in Lombard Illinois, will repeat its Wounded Warrior contribution at the end of the year. For those who can't make it in person, they can be reached by phone at (800) 499-7380, by Fax at (630) 916-7389, and online at 1starmy.com.