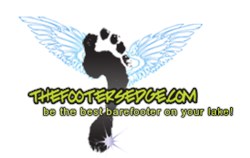 Winter Haven FL based Footer's Edge is the leader in waterskiing information and tutorials. Full details are available at www.thefootersedge.com.
Winter Haven, FL (PRWEB) August 27, 2013
The Footer's Edge is on a mission to teach everyone how to water-ski. And now, they've taken their famous waterskiing lessons out of the water and into people's homes as they are now offering online waterskiing tutorials. And the best part, they're free! As the old saying goes, "give a man a fish, and he eats for a day. Teach a man to fish and he's set for a lifetime." Lane Bowers of The Footer's Edge took that saying to heart, but instead of teaching the man to fish, he'd teach him to barefoot water-ski.
In fact, he's taught thousands of people to water-ski without falling by using the helpful barefoot boom. The ones who aren't interested in that learn to wakeboard (without falling), body board (without falling) and even ski backwards. Why? Because customers trust his teaching, and they trust his products, from the barefoot boom to the fat sac.
Just ask Army chief Michael J. Hartman. "I like the detail you go into and the way you break things down into bite size pieces…" he said, "I get so pumped up watching the video." Hartman is so enthralled he watches the videos during his downtime on base, practicing the crucial point-and-flex test.
Of course, it helps that The Footer's Edge has great technology. The Fat Sacs give boats additional ballast, which means bigger waves, which means more eventful riding. The Fly High Fat sacs are guaranteed, but not only in case of deficiency; if customers don't get up their very first time wakeboarding or barefoot waterskiing, they'll get their money back. Few other companies would dare to make such a commitment.
One quote is prominent on the Footer's Edge website:
"People think that there are great mysteries connected with [learning], but there are not. It is just teaching fundamentals, teaching players how to do things the right way." -- NFL coach Paul Brown.
The quote is found with a collection of free eBooks, lessons and high quality videos from Lane Bowers himself. Not willing to sit back, he works to teach customers the safest and most fun to wakeboard. Whether it's getting up tutorials, backwards-riding tips, or simply how to pump lake water with Fat Sack pumps, anything a customer needs is in easy to view form.
Maybe it's time to update the old saying: "Teach a man to water-ski, and he'll stick around for great values."
The Footer's Edge can be reached at http://www.thefootersedge.com 24/7, by phone at 1-877-685-6270 x8 or direct 1-863-268-0111. Operators are standing by.