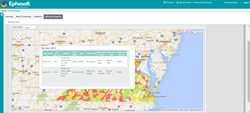 Ephesoft Universe represents not only a brand new product, but a new concept. For years documents and data have typically been handled separately with select meta data serving as the connection between the two worlds. (Pat Myers, EVP of Zia Consulting)
New York, NY (PRWEB) September 17, 2015
Ephesoft Inc., creators of the industry-leading Smart Capture® advanced document capture platform, today introduced Ephesoft Universe, the first advanced document analytics platform that leverages Hadoop clusters for document classification, data extraction, analytics and visualization. The new platform was unveiled at Finovate Fall 15 at the Hilton Midtown Manhattan to an audience of over 1500 financial executives.
Ephesoft Universe utilizes a combination of Hadoop for clustering multiple PCs to act as a single "Supercomputer", with Apache Spark, an open source technology that accelerates data processing by loading data from memory. The result is a combination of high-volume and velocity that allows Universe to identify content faster and more accurately.
At Finovate, Ephesoft demonstrated how a mortgage portfolio comprised of over one million documents could be classified and the extracted data could be combined with available industry data to identify over and under performing assets, indicate areas of potential liability for defaults, and financial profiling of loan holders.
"Mortgage portfolio analysis is just one potential application for Ephesoft Universe," explained Ike Kavas, Chief Technology Officer at Ephesoft. "In so many industries there is a wealth of information trapped in image-based repositories. Ephesoft Universe goes far beyond using key fields to find documents; Universe unlocks all of the content and provides the tools business analysts need to identify patterns and make informed decisions."
Ephesoft Universe will prove valuable in industries like financial services, insurance, government, healthcare, energy, and transportation, where paper is often the lifeblood of transactions. But, it can also be valuable for document analytics across industries for mining documents like HR forms, invoices, contracts, and other types of legal documents to assist with compliance and fraud detection efforts.
"Ephesoft Universe represents not only a brand new product, but a new concept," said Pat Myers, Executive Vice President and Cofounder of Zia Consulting, an early technology partner with Ephesoft Universe. "For years, documents and data have typically been handled separately, with select meta data serving as the connection between the two worlds. Universe offers a way to not only get this data out of documents quickly and efficiently, it also offers tools for studying and manipulating it the same way you would your Big Data results."
The Ephesoft Universe document analytics platform is now available in beta release, with general availability scheduled for December, 2015. To learn more visit universe.ephesoft.com
###
About Ephesoft:
Ephesoft, Inc. delivers our exclusive Smart Capture® intelligent capture technology on-premise or in a SaaS model. With a focus on efficiency and reliability, Ephesoft has crafted the next generation of intelligent document capture in a simple and cost-effective application. Our superior classification technology allows organizations to automate and streamline mailroom processing and other document-based business processes. Ephesoft is headquartered in Laguna Hills, California, with regional offices throughout the US. Our EMEA operations are managed from Reading, England. The company is undergoing rapid growth and has customers in over 30 countries. To learn more about Ephesoft document capture solutions, please visit ephesoft.com or call 949-335-5335.
© 2015 Ephesoft. Smart Capture is a registered trademark.