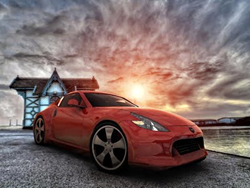 Thank you 3DTi for making it possible for me to kick start my career at my age, and having faith in me.
New York, NY (PRWEB) September 18, 2014
3D Training Institute (3DTi) is proud to announce that recent graduate Christian Carbajal just got a full time job in the 3D industry without going through the traditional, expensive 4 year college track. Christian joined 3D Training Institute's Fast Track program to learn the Autodesk software Maya, and got his diploma in only 4 months. He just turned 20 years old, and is very proud that he has already launched his career at Edese Doret Industrial Design.
When Christian graduated from high school there was a lot of pressure to go directly to college. Most of his friends and classmates were following a traditional path, feeling that they had to go college if they wanted to be successful. But, Christian had been noticing that going to college didn't always mean finding a job and he knew a lot of people who had gotten deep into debt with school loans.
Christian decided to take a different route. "I always thought of myself as an artist. I was drawing stick figures when I was only 3 years old and playing the guitar and piano at 4. I started playing video games at 8, and then got into acting and singing when I was 9 years old. At 12, I was intrigued by anatomy, and at 15, I was studying martial arts." Christian gives a lot of credit to his parents for letting him follow his passions.
"Throughout the years of watching cool and shiny movies and playing creative video games, I would think to myself, 'Wow' that's what I want to do. Once I graduated from high school, I dove into 3D Training Institute, which is a great place for ambitious people to develop the professional skills needed to be successful in the 3D industry."
3DTi is a unique production-based training program where students learn Autodesk software in a simulated on-the-job environment. Because 3DTi students learn by working on in-demand projects, Christian was able to build a portfolio while he was going to school. All 3D Training courses are held live on-line, which meant Christian was able to take classes without the extra expense of traveling and he was able to get real time feedback from the instructor. And because 3DTi students learn in a simulated production environment, Christian knew how to work in a professional position.
"While I was working on these projects, I noticed that all the things that interested me in my life were connected to 3D. Although, I never learned motion graphics, animations, 3D modeling, lighting, or texturing until I got to 3DTi, I felt like I already knew it." Christian worked hard in the 3DTi classes, and his effort paid off when he was hired by Edese Doret Industries.
According to EDID, they have produced the finest aircraft and yacht interiors whether it is a private, head of state, government, corporate or commercial airline, or yacht interior. They have an Environment Design team that evaluates, conceives, plans, and manages the implementation of creative and effective design solutions for corporate offices, hotels, retail spaces, private residences, airport and trade/air show exhibit. Edése Doret designed products have generated over $200 million in revenues worldwide.
While other kids his age are just getting started in college and paying huge sums of tuition, Christian is grateful that he is debt free, and already employed full time in the career that he always dreamed of having.
"Thank you 3DTi for making it possible for me to kick start my career at my age, and having faith in me."
Christian has this advice, "Never give up on your dreams and goals. Have the courage to believe in yourself, because you are the only one who can make it happen."
Ben Katt, from 3D Training Institute said, "We are incredibly proud of Christian. He possessed the insight to know what he wanted to accomplish, the wisdom to trust his instincts, and the motivation to make his dream come true. He is an inspiration to all of us. I highly encourage anyone who wants to find a career or make a career change to come to our free Intro Class. At 3DTi, we create success stories. Come find out how you can be as successful as Christian."
About 3D Training Institute
3D Training Institute (3DTi) is the leading provider of short-term production-based training programs in Autodesk Software. Popular trade magazines have recognized 3DTi as "One of the top schools, where students can put their careers on the fast track." 3DTi was one of the first companies to offer simulated on-the-job training in a live online production environment. 3DTi is an authorized Autodesk Training Center (ATC) and is licensed by the New York State Education Department (BPSS). For more information, visit http://www.3DTraining.com.