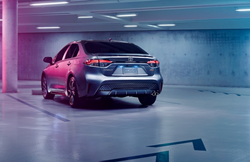 BIRMINGHAM, Ala. (PRWEB) November 22, 2019
Many Birmingham-area locals are looking to find their next vehicle before the year's end and with the holiday season comes automotive dealership sales and incentives. Serra Toyota is no exception to this and is welcoming the holiday season with 0% annual percentage rate financing options on 13 different Toyota models.
From now until January 6, 2020, car shoppers in the Birmingham area can take advantage of the 0% APR financing options on a variety of Toyota sedan, SUV, and truck models at Serra Toyota. Customers can get 0% APR financing for 48 months on select 2020 Corolla, 2020 Corolla Hybrid, 2019 C-HR, 2019 4Runner, and 2019 Tacoma models. Shoppers looking for a longer payment option may be eligible for 0% APR financing for 60 months on select 2019 Corolla Hatch, 2019 Camry, 2019 Camry Hybrid, 2019 Highlander, 2019 Tundra, and 2019 Sequoia models. Those looking at 2019 Prius and 2019 Avalon models may qualify for 0% APR financing for 72 months.
These financing options are available in lieu of all other discounts and incentives. To take part in these promotions prospective lessees must hold qualifying credit, which is subject to approval prior to signing.
Every new Toyota model purchased or leased through Serra Toyota comes with the Serra Platinum Package and Serra's Lifetime Warranty. Designed to make ownership and maintenance easy, these programs keep routine vehicle services stress-free and affordable.
Interested shoppers looking for more information about the available Toyota models or incentive options at Serra Toyota are encouraged to visit the dealership online, https://www.serratoyota.com, or contact a member of the sales team by phone, 205-847-1841. The Serra Toyota sales department is open from 9 a.m. to 7:30 p.m. Monday through Friday and from 9 a.m. to 7 p.m. on Saturdays.