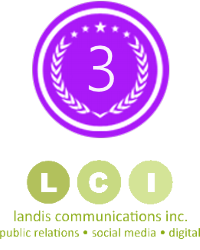 San Francisco, California (PRWEB) August 27, 2014
The top 10 public relations companies have been presented and announced by 10 Best PR. The website ranks and reviews the top 10 using a multi-variable ranking process powered by a proprietary algorithm that analyzes a firm's client reviews and online presence. Award recognition is given to public relations firms listed on the website's directory.
Landis Communications the 3 best PR firm was given the award based on 10 Best PR's analytic review process. LCI offers a wide range of communication services including media relations, branding, positioning, social media strategies, video production, consumer campaigns, advertising, web site launches, media tours, public affairs and crisis communications.
LCI was founded in 1990 by David Landis and is one of the oldest public relations agencies in San Francisco, California.
Landis Communications Public Relations has a prestigious client list which includes Levi Strauss & Co., Walmart, MetLife, Care4Today, The North Face, Match.com, California Society of Anesthesiologists, Whole Foods Market, Old Navy, Xerox, AT&T, BRAVO, Museum of the African Diaspora, California State Parks Foundation, Save the Redwoods League, NBC Entertainment, Tiffany & Co., San Francisco Symphony, Pottery Barn, Cold Stone Creamery and Sony. When Landis launched Match.com in 1995, it propelled the company from $5 million to $55 million.
LCI has an award winning team of experts. Their expertise has won them the prestigious Bulldog Award for two consecutive years. They are also named by other awards organizations as some of the United States top social media agencies.
They are accredited by the National Gay & Lesbian Chamber of Commerce and by the City of San Francisco as a Local Business Enterprise (LBE). Landis Communications is a member of the Public Relations Global Network giving them international capabilities.
Visit 10 Best PR for the complete list of the 10 best public relations firms for 2014. Their reviews and ranking are developed by a team of experts and is the Internet's #1 source for businesses seeking public relations services.