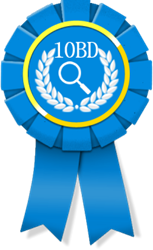 San Francisco, California (PRWEB) August 26, 2014
Based in San Francisco, CA, 10 Best Design is made up of a team of talented individuals who work in web design and development, as well as online branding and search engine optimization experts. Highly regarded in the field, 10 Best Designs is a trusted source when it comes to determining the best SEO web design agencies. Winners are selected from companies paying a monthly listing fee in order to be part of 10 Best Design's Directory. In order to determine the top names in search engine optimization web development firms, the 10 Best Design Analytic Review uses qualitative and quantitative ranking points. The 10 Best Design Analytic Review takes the following into account: online research, client research, reviews, traffic and other SEO rankings, prior awards or accolades, as well as other ranking sources.
Receiving the honor of first place in the rankings for top SEO website development company is Big Drop Inc. Located in New York, NY, Big Drop Inc has a reputation for providing refined, yet practical search engine optimization solutions. Their experts work as a team to enhance the overall appearance of a web page, all while understanding the importance of social media in SEO.
Finishing in second place was Blue Fountain Media. Blue Fountain Media, also located in New York, New York, is well known for skill in project planning. Beginning with an initial audit that includes keyword research and reviewing competition, and following with strategies that continue after launch, Blue Fountain Media works to help clients achieve success in both the short and long term.
Rounding out the top three was Forix Web Design. Located in Portland, Oregon. Forix Web Design is lauded for its ability to creatively customize SEO tools to fit any client's budget, large or small.
Through its extensive directory of innovative companies like those listed above, 10 Best Design can assist clients from a variety of fields. The easy-to-navigate web page allows users to view top ten lists of companies by design type or city, and the directory can be filtered by state. 10 Best Design is an invaluable resource when it comes to online branding, web design and development, and SEO needs.