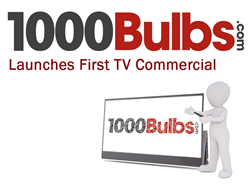 Garland, Texas (PRWEB) August 29, 2017
1000Bulbs.com aired its first television commercial yesterday, marking the company's first step into traditional broadcast media. Previously, the company's marketing efforts were limited to online channels and email marketing. With 90% of lighting purchases made offline, this TV commercial lets 1000Bulbs.com reach new customers who may not have considered purchasing lighting online.
Chris Bookman, Head of Photo and Video at 1000Bulbs.com, directed the debut commercial. Prior to starting at 1000Bulbs.com in 2016, Chris founded SnapBrothers Productions, where he directed, shot, and edited over 70 award-winning broadcast commercials, movie theater spots, and web videos. Chris has worked with for over 50 major brands including Pepsi, LEGO, Mattel, and Hasbro and won the Tongie for "Best Original Song" in 2014, 2015, and 2016. He now brings his talents to 1000Bulbs.com, producing videos to spotlight the company's innovative product offerings and the latest lighting trends. The inaugural commercial includes a cameo appearance from CEO, Kim Pedersen posing as a delivery man.
"We want electricians, contractors, property managers — who may not have gone online to buy lighting — to know that 1000Bulbs.com is here to provide an easy online solution. Buying lights sometimes requires you to wade through a long list of preferences and requirements. Our website, backed by an excellent team of dedicated specialists, is here to simplify the process at affordable prices," stated Kim Pedersen.
1000Bulbs.com began in Pedersen's garage in 1996 and now employs over 250 people across two locations in Garland, Texas. The company has seen tremendous growth and won multiple awards and accolades over the years.
The online lighting retailer has become a major player in the lighting industry and a leader in T8 LED tube sales in North America through online marketing efforts including retargeting, search and display advertising, social media, and email marketing. By providing exemplary customer service, 1000Bulbs.com has maintained a 9.3 star rating from over 45,000 customer reviews. Adding television to the marketing portfolio is expected to spur even more growth as the company heads into Q4. The TV commercial along with 1000Bulbs.com's extensive library of videos can be found on the company's YouTube page.
About 1000Bulbs.com:
1000Bulbs.com is an award-winning Internet-based lighting retailer. The company offers a wide array of innovative products at great prices to homeowners and businesses across the US and around the world. Nationally recognized for growth, innovation, and customer satisfaction, 1000Bulbs.com is an influential force in the lighting industry.