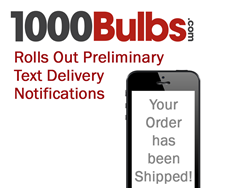 Garland, Texas (PRWEB) May 19, 2016
1000Bulbs.com has launched an introductory text (SMS) delivery notification option for customers. These alerts send customers a basic status update via the convenience of a text message when an order has shipped. The updates will improve customers' experience and help provide estimated time of delivery.
Kim Pedersen, CEO of 1000Bulbs.com, highlights the importance of the customer experience, "The customer receives an added sense of security knowing their package was safely shipped and can predict it will arrive shortly at their home. They can also plan accordingly, further reducing theft and loss of product orders."
After customers have placed an order, they have the option of providing a mobile phone number. The text notifications are supported by all major phone carriers through the API from the cloud communications company, Twilio. Twilio is a software communication company that is designed to help developers build voice and messaging applications. Twilio supports more than 1,000 cellphone carriers. The standard message and data rates do apply to this service.
In the future, 1000Bulbs.com will be integrating with FedEx and USPS APIs for "last touch" delivery notifications and other beneficial features for this mobile service. Visit http://www.1000bulbs.com to try the new SMS system or contact 1000Bulbs.com staff to learn more about it.
About 1000Bulbs.com:
1000Bulbs.com is an award-winning Internet-based lighting retailer. The company offers a wide array of innovative products at great prices to homeowners and businesses across the US and around the world. Nationally recognized for growth, innovation, and customer satisfaction, 1000Bulbs.com is an influential force in the lighting industry.
Contact:
Jeremy Foster
Vice President of Marketing and Product Development
1000Bulbs.com