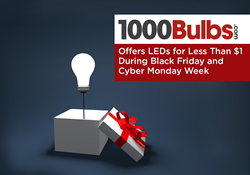 GARLAND, Texas (PRWEB) November 19, 2018
The tradition continues as 1000Bulbs.com offers deals for many of its top-selling LED products before Thanksgiving for a full two weeks of Black Friday and Cyber Monday discounts. Beginning on Monday, November 19, the sale boasts savings of up to 60% with additional discounts planned for the following Monday, November 26.
This year's coupon code "BF2018" guarantees a 15% reduction in price for entire brands or product categories. Decorators shopping for the best holiday lighting deals this season can use the code to save 15% on items like LED mini lights, larger incandescent or LED replacement bulbs. Homeowners will want to take advantage of 15% off all LED downlights and antique bulbs. Quality LED brands TCP, Euri Lighting, Green Creative, and Soraa are also 15% off with the coupon code. Commercial customers and business owners can keep their budgets on track with savings of 15% to 40% as well. LED corn lamps, area lights, and Acuity ultra thin LED downlights, which can be installed directly into the drywall without external housing, are all 15% off with the coupon code "BF2018". Use the code "BFDECOR25" for 25% off life-size Christmas figurines for large scale decorating. No coupon code is needed to save 25% on Globalux 2x2 LED panels for interior lighting or 40% on 400-Watt PLT LED high bay fixtures.
"For the last two weeks of November, we endeavor to provide energy-efficient lighting at more affordable prices than even our usual discounts every year," 1000Bulbs.com CEO, Kim Pedersen, explains, "We want to help customers find the lighting solutions they need when they need them at a price any bottom line would be happy with."
Other deals include $39.99 LED shop lights for upgrading the garage or workshop and $1.99 LED chandelier bulbs for the hallway or dining room table. Cyber Monday's bargains include standard shaped LEDs for only $0.89 and the customer favorite, a 175-Watt equal LED wall pack, gains the new low price of $59.99.
1000Bulbs.com provides a conveniently priced range of quality LED lighting and electrical products for the budget-savvy consumer. Customers can save time and shop online with 1000Bulbs' easy ordering process, skipping the struggles of never-ending checkout lines and sold out brick-and-mortar stores. Products are shipped as soon as the next business day right to customers' doorsteps. For a full list of this year's deals, visit the 1000Bulbs.com site.
About 1000Bulbs.com:
1000Bulbs.com is an award-winning, internet-based lighting retailer. Since its modest beginnings in 1996, the company has grown to offer a vast variety of high quality commercial, residential, and Christmas lighting. 1000Bulbs.com provides lighting solutions to everyone, whether it is the LED bulbs in the bedside lamp or the commercial lighting that lines city streets. Nationally recognized for growth, innovation, and customer satisfaction, from the White House to your house, 1000Bulbs.com is an influential force in the lighting industry.
Contact:
Jeremy Foster
Vice President of Marketing and Product Development
1000Bulbs.com