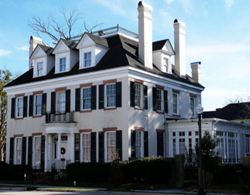 "This is an exciting time for PILMMA and our commitment to helping our members grow has never been stronger."
NEW BERN, N.C. (PRWEB) October 24, 2018
PILMMA, (Personal Injury Lawyers Marketing and Management Association), a leading Lawyer's marketing and management company, announced today that it has moved its headquarters to 701 Broad Street, New Bern, North Carolina.
The company's move to New Bern is historic in more ways than one, as corporate headquarters are now located in the John L. Rhem House, circa 1850, a Renaissance Revival style structure listed on the US National Register of Historic Places, and a short stroll to Tryon Palace, the Colonial Capital of the Carolinas.
The timing of this move was delayed for some time due to the damages the city sustained from Hurricane Florence. PILMMA President, Ken Hardison, wouldn't let a hurricane take away his excitement for the big move.
"Living in Myrtle Beach prior to New Bern, I'm no stranger to dealing with hurricanes. I can already tell that this is a great community to relocate PILMMA to because I've seen so many people band together. It's the Carolina way," Hardison said. "I think we'll be right at home."
Hardison wrote a blog post detailing some of his observations and frustrations with how the airlines treated customers during the hurricane on his weekly blog: Put Law Firm Clients First...Even Amidst Planes, Claims and Hurricanes
With content like that, PILMMA membership continues to grow as more lawyers from across the country seek help in growing their practices as competition in the legal industry stiffens. Hardison explains: "This is an exciting time for PILMMA and our commitment to helping our members grow has never been stronger."
PILMMA will continue educating all of its members on cutting-edge strategies for marketing and managing their law firms through periodicals, webinars, teleseminars, etc, but will now be able to offer the unique opportunity for one-on-one coaching and individualized consulting on site with PILMMA's founder, Ken Hardison.
Attorneys interested in joining PILMMA may obtain additional information on PILMMA's Law Firm Marketing and Management Help page.