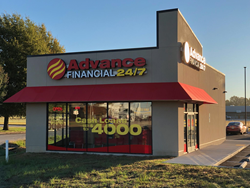 Now more Tennessee residents than ever before have access to credit that could change their financial futures for the better.
HUMBOLDT, Tenn. (PRWEB) November 09, 2018
Leading fintech company Advance Financial is thankful for the phenomenal growth it has experienced in recent years. So, to celebrate the opening of its 100th location, which is occurring in Humboldt next week, the company is giving away 100 frozen Thanksgiving turkeys from the new location, 2480 N. Central Avenue, on Monday, November 19.
Beginning at noon on Monday, the 100 free turkeys will be distributed to the first 100 neighbors who stop by Advance Financial's new Humboldt location. The event is open to all – both customers and non-customers.
The new location for Advance Financial will be open for business 24 hours, 7 days a week. Advance Financial is one of only a handful of companies in its industry that serves customers around the clock.
In addition to expanding its physical footprint by opening new stores throughout Tennessee, Advance Financial is also on track to expand its digital footprint across 20 states in the next year.
"We are thrilled that Advance Financial continues to grow not only with our brick-and-mortar locations, but with our innovative digital services," said Tina Hodges, the company's chief executive and chief experience officer. "Now more Tennessee residents than ever before have access to credit that could change their financial futures for the better."
Advance Financial offers a range of financial services including prepaid cards, electronic wire services to anywhere in the world, check cashing, free bill-payment services and free money orders. The company's loan product – called a FLEX Loan – is a flexible line of credit that offers customers the freedom of access to funds on their schedule with no late penalties.
For more information about Advance Financial, visit http://www.af247.com.
About Advance Financial
Founded in 1996, Advance Financial is a leading multi-state fintech company based in Nashville, Tennessee. Family owned and operated, the company is aggressively investing in the expansion of its market presence. In keeping with its vision of a world-class customer experience, Advance Financial is delivering instant lending decisions and brick-and-mortar money services 24/7/365.
In 2018, the company was named to the Inc. 5000 list of the fastest-growing private companies in the country for the seventh year in a row. The Nashville Business Journal also named Advance Financial as 2018's fourth fastest growing company in the Nashville market, and Forbes included the company on its 2018 list of Best Employers for New Graduates. For more information visit https://www.af247.com.