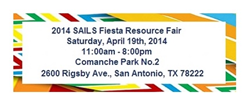 Jill Taylor is elated to take part in Saturday's event and is 'happy to be recognized by SAILS as a trustworthy San Antonio resource.'
San Antonio, TX (PRWEB) April 17, 2014
What: 101 Mobility San Antonio is participating in the annual San Antonio Independent Living Resources (SAILS) fair. 101 Mobility, a local retailer, installer, and maintenance provider for wheelchair ramps, stair lifts, auto lifts, patient lifts, and wheelchair lifts, will have a fun fiesta themed wheelchair decorating booth at this year's fair. Jill Taylor, owner of 101 Mobility San Antonio, has partnered with SAILS on four other events and was thrilled when the executive director, Kitty Brietzke, invited her company to participate in the much anticipated event.
SAILS – established in 1981 - is a source and destination for independent living services and support services for those with disabilities. Their annual resource fair will be a fiesta celebration complete with live music, BBQ, craft exhibits, and displays from several San Antonio retailers and service providers.
Jill Taylor is elated to take part in Saturday's event and is "happy to be recognized by SAILS as a trustworthy San Antonio resource." Be sure to visit Jill at the 101 Mobility booth complete with a stair lift demonstration and fun fiesta décor for your wheels!
To read more about 101 Mobility San Antonio and their work with SAILS see their article in SAILS' spring newsletter: http://www.sailstx.org/media/newsletter_2014_01_spring.pdf
For more information about 101 Mobility San Antonio including available products and services, check out: http://sanantonio.101mobility.com/
Where: Comanche Park No. 2, 2600 Rigsby Avenue, San Antonio, TX 78222
When: Saturday, April, 19th, 2014, 11:00 AM – 8:00 PM
RSVP: This is a free event and open to the public. For additional resource fair information, please visit: http://www.sailstx.org/index.html
About 101 Mobility:
101 Mobility is a full-service sales, service, and installation provider of a complete line of mobility and accessibility products and equipment, including stair lifts, auto lifts, ramps, porch lifts, patient lifts, power wheelchairs, scooters and more. Short and long-term rentals are also available for home, office, and institution. By working with patients to identify which home health care devices best suit each individual's needs, 101 Mobility provides an alternative to group homes and rehabilitation centers by increasing accessibility and allowing clients to live self-sufficiently in their homes.
For more information, please visit: http://101mobility.com/
About SAILS:
San Antonio Independent Living Services (SAILS) is a local resource center for independent living services and support services for individuals with disabilities. SAILS works toward advocating the rights of those with disABILITIES and empowering them to live active lives in the San Antonio community. SAILS was founded in 1981 and continues to provide necessary services for those living with disabilities in their community. For additional information, please visit: http://www.sailstx.org/index.html