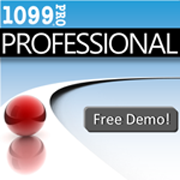 Try before you buy and download a FREE demo of 1099 Pro's software today!
Los Angeles, CA (PRWEB) January 08, 2014
1099 Pro, Inc., http://www.1099pro.com, has released its flagship products for printing, mailing, & eFiling 1098, 1099, 3921, 5498, & W-2G 2013 tax forms. Known for filing over 10% of the information returns filed in the United States every year, 1099 Pro does not disappoint. The 2013 1099 software allows users to import tax forms from a file (Excel or text), print to different layouts or preprinted forms, and file electronically. What's better is that the 1099 Pro Software allows users to do it all themselves or hire the 1099 Pro Service Bureau to do it on their behalf.
Interested parties can find 1099 Pro's features and abilities below but what really separates this software from the pack is the ease of use and customer service. 1099 Pro provides video tutorials for all major software features in addition to phone, email, and live chat support. For those who are still skeptical, 1099 Pro offers a free demo version of the software that can be unlocked, without the loss of data, when purchased.
1099 Pro's software supports forms 1098, 1098-C, 1098-E, 1098-T, 1099-A, 1099-B, 1099-C, 1099-CAP, 1099-DIV, 1099-G, 1099-H, 1099-INT, 1099-K, 1099-LTC, 1099-MISC, 1099-OID, 1099-PATR, 1099-Q, 1099-R, 1099-S, 1099-SA, 3921, 3922, 5498, 5498-ESA, 5498-SA, W-2G, & W-9/B-Notices. This years 1099 software comes standard with the ability to print & efile standard forms and corrections while also providing features such as SSN masking, printing to encrypted pdf files, or printing 1099 forms onto blank paper.
Regarding filing features, 1099 Pro gives its users the ability to file via paper or electronically. Electronic filers can file in the combined federal state filing system or in the standard IRS format. Enterprise 1099 software users even have the ability to create state direct files for submission to individual states with special filing requirements.
ABOUT 1099 Pro, Inc.
1099 Pro, Inc. has been in business for over 20 years and files 10% of the information returns filed in the United States each year. 1099 Pro software is available for 1099, W-2, & 1042-S tax forms and can process printing, e-filing, & corrections.