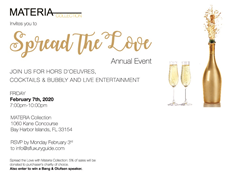 'Giving back to the community we serve is important to our company's credo
MIAMI (PRWEB) January 29, 2020
MATERIA Collection Miami has over 30 years of combined experience in manufacturing and distributing award-winning, fine Italian home design furnishings and luxury decor.
MATERIA Collection Miami features unique designer furniture, lighting, kitchens, kitchen appliances, wall coverings, unique custom surfaces, and wall paneling in its Bay Harbor Islands' showroom.
Designing the interiors of Miami homes and throughout the United States since 2016, the company quickly developed a reputation for outstanding quality and design concepts created in Italy. MATERIA's showroom, features an eclectic collection of unique wall coverings, armchairs, lighting, tables, coffee tables, couches, chairs, cabinets, wine storage, beds and many other custom millwork pieces.
As a member of the American Society Of Interior Designers the company designs bespoke home design elements and furnishings according to its client's specific vision.
MATERIA Collection's kitchens, which architecturally define a living space, are timeless in design and quality and last a lifetime.
All of MATERIA's wall paneling and designer doors are custom-made and come in different materials, finishes and sizes.
On February 7th, 2020, MATERIA Collection is holding its 2nd annual, invitational 'Spread The Love' soirée, at its showroom in Miami. Existing clients, trade professionals and homeowners are invited to enjoy life entertainment, cocktails, hors d'oeuvres and 5% of sales that evening will be donated to the purchaser's charity of choice. 'Giving back to the community we serve is important to our company's credo, Yana Pojidaeva, vice president stated.
MATERIA Collection offers its customer the ultimate shopping experience by providing convenient product sourcing and peace-of-mind design solutions.
The MATERIA Collection showroom is located at 1060 Kane Concourse in Bay Harbor Islands, Florida 33154 and is open to the public and industry professionals by appointment only.
To RSVP for the 'Spread the Love' soirée, please call or email the company's headquarters.