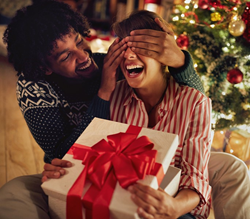 Cool, practical or essential, tech gifts are always interesting.
HOBOKEN, N.J. (PRWEB) December 13, 2018
A NYC area IT consultant and MSP shares its 2018 tech gifts list for the holidays in a new article on the eMazzanti Technologies website. The list includes items to enhance personal productivity and security as well as tech for entertainment, fun and adventure.
The informative article presents updated versions of some items found on lists from previous years, such as the Microsoft Surface Pro 6, as well as some new additions like the Topple Bluetooth Beanie. In addition, this year's compilation includes tech costing less than $25 and all the way up to the $1,000 range.
"Cool, practical or essential, tech gifts are always interesting," stated Jennifer Mazzanti, CEO, eMazzanti Technologies. "Busy professionals are sure to enjoy the latest gadget to make their lives better."
Below are a few excerpts from the article, "10 Cool and Practical Tech Gifts for Versatile Professionals."
1. NetGear Arlo Pro 2 Security Camera
"This wireless outdoor security camera offers excellent video, two-way audio, digital zoom, support for Amazon Alexa and more. Whether you maintain a home office or simply want to keep an eye on the home front while you work, this security system earns high marks."
2. Logitech Bluetooth Illuminated Keyboard
"Every day, you type information on your smartphone, your tablet, your laptop, and even streaming devices. Touchscreens are convenient, but sometimes you need a good, old-fashioned keyboard. The Logitech Bluetooth keyboard is portable, with backlit keys that automatically adjust to the light in the room. It can pair with multiple devices, allowing you to switch effortlessly from one to the other."
3. Microsoft Surface Pro 6
"The Surface Pro 6 is the latest version of Microsoft's popular 2-in-1 laptop. Since the original Surface Pro appeared in 2012, the company has steadily improved the quality and features of this laptop/tablet hybrid. Significant improvements over the 2017 version include a processor upgrade and dramatically improved battery life."
More Cool and Practical Tech Gifts >>
Tech Gifts for Business
According to the professionals at eMazzanti Technologies, the tech just keeps getting better and more affordable. So, whether business leaders seek increased security to protect valuable assets or crave an outdoor adventure enhanced by the latest wearable tech, the holidays have tech gifts for all.
With a wide variety of business technology and security solutions available, eMazzanti helps business decision makers determine which technology investments will generate the greatest returns. Always on the leading edge of business tech, eMazzanti can outline a plan to implement the right technology while protecting important business assets.
Related resource information:
Section 179 Tax Deduction for Technology Investment Doubled for 2018
2018 Business Tech Review: Innovation Balanced with Security
About eMazzanti Technologies
eMazzanti's team of trained, certified IT experts rapidly deliver increased revenue growth, data security and productivity for clients ranging from law firms to high-end global retailers, expertly providing advanced retail and payment technology, digital marketing services, cloud and mobile solutions, multi-site implementations, 24×7 outsourced network management, remote monitoring and support.
eMazzanti has made the Inc. 5000 list eight consecutive years, is a 2015, 2013 and 2012 Microsoft Partner of the Year, 2016 NJ Business of the Year, 5X WatchGuard Partner of the Year and one of the TOP 200 U.S. Microsoft Partners! Contact: 1-866-362-9926, info@emazzanti.net or http://www.emazzanti.net Twitter: @emazzanti Facebook: Facebook.com/emazzantitechnologies.