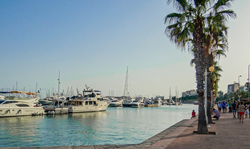 "All over the world you'll find communities where your dollars buy more—safe, pretty, welcoming towns and cities where most Americans would be shocked—pleasantly, mind you—to discover that on a budget of $30,000 they can live really well."
BALTIMORE (PRWEB) September 22, 2020
"All over the world you'll find communities where your dollars buy more—safe, pretty, welcoming towns and cities where most Americans would be shocked—pleasantly, mind you—to discover that on a budget of $30,000 they can live really well," says Jennifer Stevens, Executive editor, International Living.
"We're talking about $2,500 a month for a couple to enjoy a comfortable apartment or home, utilities and phone, health insurance and care, groceries, dining out, and extras, too. All across the US it's not unusual to need at least twice that to bankroll a truly comfortable existence.
"Yet in attractive towns and cities like Nosara, Costa Rica right on the Pacific Coast or Lucca, Italy an hour west of Florence in Tuscany or Vung Tau, Vietnam where surfers flock—on $30,000 a year, instead of counting every penny, you could relax and enjoy life, as expats based there already are."
International Living's editors recently curated a report that explores 75 of The World's Best Towns and Cities for a Low-Cost Retirement—all situated in countries represented on IL's annual Global Retirement Index.
Culled from that larger list, this grouping of 10 great-value escapes where a couple can live well for $30,000 a year (or less) offers options for potential expats on a budget in Europe, Latin American and Southeast Asia.
"We chose these 10 great-value towns to illustrate that good options exist on a $30,000-a-year budget, no matter what your taste may be—beach town, inland, bigger cities, and smaller towns," says Stevens.
International Living's picks for "10 Surprising Towns and Cities Where $30,000 Can Fund a Good Life" includes:
Granada, Spain
Reams of poetry and prose have been written about Granada—this city is genuinely beautiful. It still breathes romance.
Its hilly location, with the towers of the Alhambra looming over all, is superb. Across from and around the Alhambra lie the winding streets of the medieval Moorish quarter, the Albaicín, with its stone houses and flower-bedecked balconies.
The city is popular with European tourists. The upside to that, is that folks are more likely to find more locals in the service sector—such as waiters and shop attendants—who speak some English. And thanks to the many young tourists, Granada has an attractively youthful ambience, a lively bar and tapas scene, and plenty of good eats and lodgings at affordable prices.
Here a couple can live well on a monthly budget of $ 2,476, or $29,712 a year.
Prague, in central Europe, is 100% authentic. The city was essentially undamaged by World War II and, thus, the streets are crammed with buildings that span the entirety of the architectural movements in Europe over the last thousand years—Romanesque, Gothic, Renaissance, and Baroque, up through Cubism, Stalinist, and Post-1989.
And yet, it isn't some kind of cultural Disneyland. Prague is an increasingly modern city, with all the creature comforts of the US. It's home to a diverse food scene, a high standard of living, high-quality healthcare, an expansive arts culture, parks big and small, and endless opportunities for walking and exploring.
Prague is a wonderful city to call home—folks are close to so much in terms of weekend getaways or longer trips. The lifestyle is relaxing. The city is eye-candy pretty much everywhere you go.
Best of all, Prague offers an affordable lifestyle. A couple can live the good life here on a budget of $1,900 a month, or $22,800 a year.
Sometimes overlooked by tourists who are understandably caught up in the museums and other attractions of Florence, the ancient city of Lucca is well worth a visit in its own right. It is perfect for a day trip but it is also a great base from which to explore Pisa and Sienna to the south, Versilia and the coast to the west, or the Apuan Alps of northern Tuscany.
This convenient central location in Tuscany has caused Lucca some grief in its over 2,000 years of history, but being the center of many conflicts from Roman times all the way to the 16th century and beyond gave rise to Lucca's most distinctive architectural feature: the impressive stone walls that surround and enclose the historic district of this fascinating Italian town.
Depending on where folks choose to live, a couple can live comfortably here on a monthly budget of $2,100, or $25,200 a year.
Nosara is a haven for surfers, yoga enthusiasts, and practitioners of alternative health and wellness who come from all over the world. The original fishing village has been surrounded by modern development, including shops, boutiques, homes from luxury to basic, and restaurants tucked away in the forest that blankets the area, although it remains low-key. There are no large hotels or resorts or tall condo towers here. In fact, building along much of the shore is not allowed due to a large wildlife refuge that protects nesting sea turtles. The arrival of thousands of sea turtles laying their eggs on the community's beaches is a big tourist draw.
The main beaches in the area include Playa Guiones, a surfer's paradise, and Playa Pelada, a scenic family beach. Playa Ostional further to the north is the main nesting beach for the endangered Olive Ridley sea turtles, and is protected in the Ostional National Reserve. Most of the expat communities, homes, and developments are in Guiones and Pelada.
A couple can enjoy the coast for $2,000 a month, or $24,000 a year.
Like so many cities in Portugal, Braga's history was influenced by Roman occupation, and the city's architecture and landscape vividly recall those ancient days. Considered the oldest city in Portugal, Braga lies approximately 21 miles due east of the beach and windsurfing destination of Esposende, in the country's north.
The centerpiece of the town is the large plaza in the downtown area, with a grand fountain, the cathedral, a few museums, bookstores, restaurants, and shops all on a primarily pedestrian promenade. The cathedral, or Sé as they are known in Portugal, is the seat of a diocese that dates back to the third century AD; the building itself dates to the eleventh century. This is a university town, which means many of the younger folks speak English and the shopkeepers and restaurant owners cater to tourists, which makes it a relatively easy spot for expats to settle.
A couple could live well here for $2,050 a month, or $24,600 a year.
Art, history, culture, and beauty—Ravenna has it all. The only thing it doesn't have is crowds. It is classy and elegant, yet there's nothing austere about it. The city retains its Old World Italy appeal but mixes it up with a modern vibe; contemporary structures blend in with the old, even in the historic quarter. Ravenna has a sunny disposition about it with pastel-tinged stucco and portico-punctuated buildings.
Ravenna draws travelers to its stunning Byzantine mosaics that are a UNESCO World Heritage site. They show how the city was a bridge between Europe and the eastern world. But Ravenna largely remains off the expat radar, which is strange, because the city of 165,000 residents has dozens of museums and monuments, along with a vibrant velvet-draped theater and a healthy literary life, as well.
Here, a couple can live a cultured retirement on $1,517 a month, or $18,204 a year.
With a long history of welcoming immigrants, this mid-size city on Mexico's west coast offers visitors more than the standard "golden trio" of great weather, reasonable prices, and a stunningly beautiful location. Mazatlán is one of Mexico's few colonial towns actually on the coast, with miles of beautiful beaches, a thriving year-round cultural scene, fantastic fresh seafood, and a friendly community of local people and expats.
Recent renovations of the city have made it even more attractive, with two elegant oceanfront parks, a completely re-done Centro Historico, an easier-to-navigate path and glass-floored lookout at El Faro (the highest lighthouse in the world), and a beautified malecon, the 12-mile boardwalk along the glittering Pacific Ocean that now features Mazatlán's first bicycle path.
A couple can enjoy a seaside retirement on $1,060 a month, or $12,720 a year.
Salento is a quaint pueblo (town) in Colombia's Andes Mountain coffee region. With a population of only 8,000, the town covers just 12 by 10 blocks. Like many Colombian pueblos, life centers around the main square—Plaza de Bolívar. Our Lady of Carmen church is the main focal point and towers over the palm trees, flowering plants, rustic benches, and of course, the statue of Simón Bolívar.
On weekends the plaza becomes a marketplace filled with food stalls, souvenir vendors, and pop-up restaurants. Walk a few blocks from Plaza Bolívar and you'll be out in the countryside, surrounded by coffee fields, rolling green hills, cattle ranches, and distant mountains.
Here, a couple can live a relaxed retirement on $1,030 – $1,280 a month, or $12,360-$15,360 a year.
The pretty city of Vung Tau has been welcoming sun worshipers to its beaches since 1870. It's close enough to Ho Chi Minh City to play host to a good number of weekend visitors who come here to frolic in the water, play in the sand, fly their kites, and enjoy the ocean breezes. Surfers come here to take advantage of the waves, and joggers like the area for its nearly perfect year-round weather. Seafood aficionados love the many outstanding restaurants, and everyone adores the laidback vibe.
Vung Tau's population of about 527,000 people includes several thousand westerners who have made the city their home. Americans and Australians make up the bulk of expatriates. Though many of them are retired, a few expats have opened small restaurants, bars, and other businesses.
Here, a couple can live well on $1,348 a month, or $16,176 a year.
Alicante lies on the Costa Blanca, a 120-mile stretch along Spain's eastern Mediterranean coast. But Alicante is the provincial capital, the largest city, and the communications hub for this entire coast.
It's a charming city, and a convenient place to retire. Alicante's old town, or Casco Histórico, which lies close to the sea, is a neighborhood of winding streets, shops, and a wealth of restaurants, with the towering hulk of the castle of Santa Bárbara at its north end. Beyond the seaside and the old city lie modern neighborhoods of apartment buildings, shady parks, and—just a 10-minute walk from the sea—the Mercado Central, the city's daily indoor market.
On a monthly budget of $1,985, or $23,820 a year, a couple can enjoy a coastal retirement.
More information on 75 of the best towns and cities for retirement around the world in 2020 can be found, here: The World's Best Towns and Cities for a Low-Cost Retirement
Editor's Note: Members of the media have permission to republish the article linked above once credit is given to Internationalliving.com
Further information, as well as interviews with expert authors for radio, TV or print, is available on request. Photos are also available.
For information about InternationalLiving.com content republishing, source material or to book an interview with one of our experts, contact PR Managing Editor, Marita Kelly, +001 667 312 3532, mkelly@internationalliving.com
Instagram: https://www.instagram.com/internationalliving/
Twitter: @inliving — https://twitter.com/inliving?lang=en
Facebook: https://www.facebook.com/International.Living/
About International Living
Since 1979, InternationalLiving.com has been the leading authority for anyone looking for global retirement or relocation opportunities. Through its monthly magazine and related e-letters, extensive website, podcasts, online bookstore, and events held around the world, InternationalLiving.com provides information and services to help its readers live better, travel farther, have more fun, save more money, and find better business opportunities when they expand their world beyond their own shores. InternationalLiving.com has more than 200 contributors traveling the globe, investigating the best opportunities for travel, retirement, real estate, and investment.