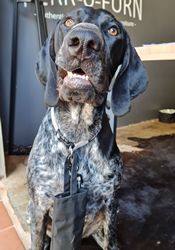 Read on for tips about relocating pets overseas. Find info on moving large and small pets across the U.S., Canada, to Hawaii and to the Caribbean. And, learn what information you need to gather before starting the process as well as timelines.
TAMPA, Fla. (PRWEB) August 15, 2022
First time moving across the United States or overseas with a pet? Air Animal Pet Movers offers resources to help move furry, scaly or feathered best friends to their new homes.
1. Moving a pet is filled with rules, government regulations, strict timelines and paperwork. Trying a do-it-yourself pet move can increase stress and delay a pet's relocation.
2. If your pet has never flown before, know that air carriers have a confusing language all their own. Experienced pet shippers like Air Animal translate the lingo.
3. In air cargo. pets fly in a pressurized, heated and ventilated cargo hold inside the airplane located just below the passenger compartments. Tie-down straps secure pet flight kennels to the deck of the compartment.
4. Cost. Pricing structures vary by pet move company. For example, an overseas move may include air cargo charges, relocation logistics, a pet travel kennel, laboratory charges for required blood tests, veterinary inspections, international health certificate preparation, in-transit care, pet hotel or quarantine if required, customs entry procedures, ground transport to a gateway airport if needed, and the specific requirements of the destination country. Air Animal offers average bundled pricing for popular destinations on its website.
5. Each destination country requires varying lead times before the move. Check qualified pet shippers' websites for information on the destination, lead times, veterinary and regulatory requirements.
6. Weather Embargoes. Some U.S. and international airlines accept pets ONLY when air temperatures are between 45 and 85 degrees Fahrenheit (7 to 27 degrees Celsius) at origin, all transit points and destination.
7. Banned Breeds. Airlines and some countries around the world have banned both air cargo arrivals and passenger cabin travel for aggressive breeds. Check the airline website for a list of banned breeds. Air Animal also provides a list of commonly banned breeds.
8. Plan Ahead! Air Animal offers an online request to share details about the upcoming move. Pet move managers then follow-up on a schedule based on the pet move date.
9. Gather required pet health information:

Microchip manufacturer and number
Rabies vaccination records including two most re- cent vaccinations
Pet age and weight
Pet breed or crossbreed
10. Pets under 20 pounds may be able to travel in a soft-side pet carrier under an airplane seat depending on the destination and the airline's rules/availability. Every traveling pet needs a health certificate and a rabies vaccination certificate. Any veterinarian can supply a domestic health certificate for travel within the United States. Hawaii requires a rabies antibody test and proof of other vaccinations. Only accredited veterinarians can provide international health certificates for overseas destinations. USDA export endorsement is often required for international certificates.
We believe in Pet Moving Made Easy®. It's our focus, our passion and our promise.
About Air Animal
Air Animal has helped more than 55,000 families move their 135,000 furry, feathered and scaly pets around the globe since 1977. They welcome pet move authorizations and referrals from major corporations, relocation management agencies, household goods movers, veterinarians, families, U.S. military and government transferees. Get the best in animal care and transportation. Air Animal is an appointed and endorsed IATA air cargo sales agency working with all airlines that move animals. They are an Indirect Air Carrier cleared for tendering live animals to airlines by the U.S. Transportation Security Administration. See airanimal.com to learn more about Pet Moving Made Easy®.