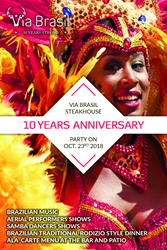 FREE Admission for Everyone and Free Champagne for all guests having Rodizio Sterling 6pm to 9pm
LAS VEGAS (PRWEB) September 17, 2018
October 23rd, 2018 starting at 5pm, Via Brasil Steakhouse will be hosting their 10th anniversary party with not just great traditional Brazilian Food, but they're bringing out traditional Brazilian Entertainment throughout the night. Samba dancers, Brazilian Music, Brazilian Stilt Walkers, Aerial Silk Performers. They will also provide Complementary Champagne with their Rodizio Dinner for everyone from 6pm to 9pm for their guests that night. Everyone who joins their anniversary party will also receive a gift; a $50 dining card for their next visit as their gift of their appreciation. All performers from across Brazil and the United States, who will engage audiences with a program inspired by Brazil's diverse, historic and colorful culture.
The event will focus on various elements of Brazilian music, dance and performances. They will dazzle audiences with beautiful costumes, interactive workshops and a one of a kind Samba Show. The event includes both indoor and outdoor fun on the patio. The family-friendly event will also feature educational experiences that are interactive with performances and demonstrations designed for people of all ages.
Via Brasil bar will serve ala carte menu and Brazil's national cocktail – the Caipirinha – along with other beverages.
This all-ages event welcomes everyone, young and old to join together and celebrate culture, love and 10 years in business.
Via Brasil Steakhouse opened on October 23rd, 2008 -Since then we have hosted two Brazilian Outdoor Festivals in Las Vegas for up to 4000 people-These events were hosted inside and outside the restaurant.
Via Brasil Steakhouse is located at 1225 South Fort Apache Road Las Vegas NV 89117. Doors open at 5 p.m. on Tuesday October 23rd 2018. FREE Admission for everyone .Advance dinner reservations are available online and recommended. Visit http://www.viabrasilsteakhouse.com for more information.
For media inquiries regarding this event, please contact Event Director, Anna Gomes at 702-884-5364 or via email at anna(at)viabrasilsteakhouse.com.