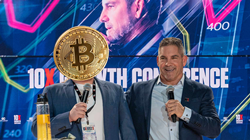 Big names are expected to be under contract very soon, including the creator of Bitcoin.
MIAMI (PRWEB) June 26, 2019
Grant Cardone, the founder of the world's largest annual business conference, just announced he will pay the creator of Bitcoin Satoshi Nakamato $1 million dollars to show up and speak at his upcoming 10X Growth Conference 4 in Las Vegas.
"I'm am happy to write a check to "the real Satoshi Nakamoto" to speak at the 10X Growth Conference where 10X entrepreneurs, business owners, marketers, and blockchain developers will gather." —Grant Cardone
The 10X Growth Conference is an annual event, and the next one will be at Mandalay Bay in Las Vegas. Celebrity speakers and A-list entertainment will be featured along with networking opportunities, parties, and insightful content designed to improve your business, income, and life. Seats can be reserved here.
Previously, the 10X Growth Conference has featured speakers such as Steve Harvey, John Maxwell, Daymond John, Sarah Blakeley, and Bethany Frankel, while performers like Snoop Dog and Lil Jon rocked the stage. While no speakers or performers have been announced yet for the 2020 event, big names are expected to be under contract very soon, including the creator of Bitcoin.  
Clearly, Satoshi would be a big draw for the 10X Growth Conference audience and well worth a $1M investment, a drop in the bucket compared with what Satoshi earned just last month with Bitcoin going from $5,000 to $11,000 in the last thirty days.
The real identity of Satoshi has led to much debate in the last few years, culminating recently when John McAfee, creator of McAfee antivirus software, said he knows the identity of Satoshi and that he is alive and residing within the United States.
Seats at the 10X Growth Conference expect to sell out quickly with the real possibility that Satoshi Nakamoto will be speaking publicly for the first time since the creation of Bitcoin.
About Grant Cardone:
Grant Cardone is a NY Times Best Selling Author, Entrepreneur and Private Equity Manager with $1.2 Billion in Assets Under Management. In addition to this, he is known as the #1 Sales Expert in the world today and was called by Forbes Magazine one of the top CEOs to follow on Social Media. He currently owns and operates 7 companies that do $150m in annual sales and he recently launched the Grant Cardone Foundation, whose mission is to impact the lives of children who grow up without fathers.