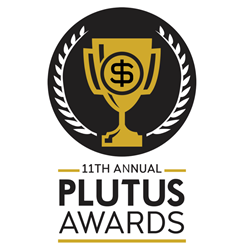 I'm pleased that our panel has been a driving force in recognizing how we can do better in the personal finance community
YARDLEY, Pa. (PRWEB) November 16, 2020
Winners for the 11th Annual Plutus Awards have been announced in a livestreamed digital ceremony that took place on November 13, 2020. The winners represent a wide variety of experiences and backgrounds.
"In this year of social distancing, we were pleased to put together a ceremony that emphasized togetherness, even while we can't be together in person," Harlan Landes said, the founder of the Plutus Awards and the executive director of the Plutus Foundation, which presents the Awards. "We are so pleased to have such a great partner in Capital Group as we navigate this uncharted territory."
Winners in the most-anticipated categories include:

Blog of the Year: Bitches Get Riches
Podcast of the Year: Journey to Launch
Video Channel of the Year: Our Rich Journey on YouTube
People's Choice: Investing Latina
Additionally, Donna Freedman, a long-time member of the community was recognized with the Lifetime Achievement Award.
"Capital Group congratulates the personal finance content creators recognized by the Plutus Foundation," said Tom Joyce, senior vice president and head of communications at Capital Group. "We are committed to improving people's lives through successful investing. We're honored to support individuals who are lending their voices and building communities around financial well-being and the importance of saving and investing for the long-term."
Included in this year's ceremony were two new categories added by the Plutus Awards panel, which ultimately votes on finalists and winners. One category recognizing underserved communities, included content creators from the LGBTQIA personal finance community, as well as creators of color. The winner in this category was Money Smart Latina.
Additionally, the panelists, which represent a diverse cross-section of online personal finance content creators, added a category recognizing outstanding coverage of current events. The winner of this category was an episode titled "A Candid Conversation About Race in America" by Michelle Jackson from her podcast, Michelle is Money Hungry.
"I'm pleased that our panel has been a driving force in recognizing how we can do better in the personal finance community," Landes said. "This year's winners represent a strong cross section of attitudes and perspectives that are often overlooked."
###
About the Plutus Foundation
The Plutus Foundation is a 501(c)3 nonprofit organization that provides grant money and resources to provide opportunities for the financial media to create, develop, and administer community-based programs that enhance financial literacy, education, and empowerment. The Plutus Awards celebrates excellence in financial media with an annual awards ceremony recognizing the best content from independent producers. The Foundation also produces Plutus Voices, a series of learning and networking events for the financial media, bringing attention to important topics.
About Capital Group
Since 1931, Capital Group, home of the American Funds, has been singularly focused on delivering superior results for long-term investors using high-conviction portfolios, rigorous research and individual accountability. As of June 30, 2020, Capital Group manages more than $1.9 trillion in equity and fixed income assets for millions of individual and institutional investors around the world.