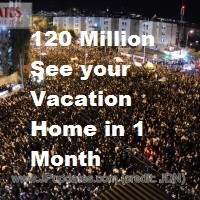 New Vacation Rental Home Portal Grabs 120 Million Vacationers
New York, New york (PRWEB) February 18, 2014
A convenient and easy-to-read chart located at http://www.rentmyvacationhome.com shows the average people that visit each website per month. By filling out one easy to use form that changes 115 sites immediately.
Next, the real estate sites then picks up these changes on the new Rent My Vacation Home.com company Internet portal. The portal automatically submits the Vacation Homes to not only the 115 sites controlled by Rent My Vacation Home.com but All the 3rd party sites listed at http://www.rentmyvacationhome.com.
First, vacation owners join the network by either paying $99 for the year or on a free commission only basis of 9%. After the Vacation Homeowner makes the listing it is then transferred onto large network servers.
By using large servers located throughout the United States the vacation rental data is transferred within seconds across the Internet. The fiber optic lines that make up the Rent My Vacation Home.com network are some of the fastest Mbps Internet connections in the industry along with large quad Pentium servers strategically located in different parts of the United States.
Over 100 sites and offices receive the changes immediately and then the information is filtered to large third-party real estate firms that distribute the listings even further. At the end of the cycle the vacation listing appears in front of 120 million vacationers each month.
This technology using network distribution to hundreds of portals is new to the vacation rental industry. Vacation Homeowners now do not have to try and promote their home using hundreds of passwords and sites.
The new Vacation Rental network system presented by Rent My Vacation Home .com enables one distribution point for advertisement to Vacationers from Homeowners. Vacationers can use the system knowing that Rent My Vacation Home.com guarantees the stay on their reservation system and Vacation Homeowners are offered a refund if they do not receive rentals.
For more information about Rent My Vacation Home dot com please go to http://www.rentmyvacationhome.com/ and also call them at 1-800-699-7684 with an email address of info(at)rentmyvacationhome(dot)com.