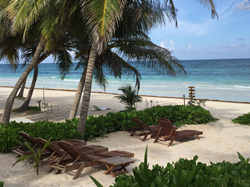 "In this report, I list items we addressed before we left the U.S. (and some things we wish we had done) that will help smooth your transition to life abroad."
BALTIMORE (PRWEB) October 27, 2020
"A successful move involves more than just knowing the nitty-gritty of where you will go," says expat Paul Carlino, author of International Living's new report. "And while every pre-departure to-do list should include selling your things and packing your bags, there is more to it than that.
"After my wife, Rebecca, and I decided to move our family to Mexico, we took several months to wind things down in the U.S.
"In this report, I list items we addressed before we left the U.S. (and some things we wish we had done) that will help smooth your transition to life abroad."
The full report details a 12-point checklist for potential expats ahead of leaving the U.S.
Driver's License
There are good reasons to keep a state-issued driver's license when moving abroad and even to get a second copy. First, the U.S. license serves as a source of identification. Second, it can be used to drive legally in many countries, including Mexico and those in Central America.
Other countries may require an International Driving Permit (IDP), which you can only be obtained by having a valid U.S. license. An IDP can only be issued by the same country that issued the driver's license, so it is best to know what the new country requires. If an IDP is needed, a soon-to-be-expat can apply for it in advance at the local AAA office or online.
If folks want to obtain a driver's license from their new country of residence, they may be required to turn in their U.S. license. This is where having a second copy (even an expired one) comes in handy.
Voter Registration
Generally, when folks move outside the U.S., they can continue to vote in the state where they were last domiciled, provided they were registered to vote in that state before moving and have not registered to vote in another state. If they will be overseas on the date of the election, they can notify their local office of registration and elections that they want to vote absentee. Many states will send an absentee ballot by email.
The Federal Voting Assistance Program website (FVAP.gov) provides rules specific to each state and has contact information for state election officials. It also includes information about what to do if you cannot obtain an absentee ballot from your state.
Medical, Vital, and School Records
If you are enrolling children in school in the new country, check with the school officials to see what records to bring. Schools may require vaccination records and/or a birth certificate for admission and it can be helpful for education professionals to see prior school records to determine academic placement.
To be accepted as legitimate, vital records, such as birth and marriage certificates and court documents relating to divorce or child custody, may require an apostille certification. Apostille is an internationally recognized convention for certifying the validity of certain documents, similar to a notarization in the U.S. Each state has its own rules on how to apostille a document.
Immunizations
As important as having the proper visa to enter a country is having the required shots. While recommended immunizations can sometimes be obtained after arrival in a foreign country, often they are simply not available.
The Destinations page (found under the Travelers' Health tab on the homepage) on the Centers for Disease Control and Prevention (CDC) website (Cdc.gov) lists recommended vaccines and medicines for each country. The CDC can also locate the clinic nearest you that has the necessary vaccines.
Folks need to make sure they have current immunization records with them, and that they are up to date on routine vaccinations such as measles-mumps-rubella (MMR) and tetanus.
Taxes
"I am a former IRS attorney, so taxes are never far from my mind," says Carlino. "While U.S. citizens and green card holders owe U.S. taxes on income no matter where they live, moving overseas may reduce state tax liability. Filing as a part-year resident or non-resident generally requires that you pay tax only on income earned while resident in the state or from state sources (such as rental income from a property in the state).
"Researching what measures you can take before moving abroad to minimize your state tax liability can greatly increase your long-term savings."
The full checklist—including what to do with your house—can be found, here: Checklist for Smoothly How to Move out of the U.S
Members of the media have permission to republish the article linked above once credit is given to Internationalliving.com
Further information, as well as interviews with Winton Churchill for radio, TV or print, is available on request. Photos are also available.
For information about InternationalLiving.com content republishing, source material or to book an interview with one of our experts, contact PR Managing Editor, Marita Kelly, +001 667 312 3532, mkelly@internationalliving.com
Twitter: @inliving
Facebook: https://www.facebook.com/International.Living/
About International Living
Since 1979, InternationalLiving.com has been the leading authority for anyone looking for global retirement or relocation opportunities. Through its monthly magazine and related e-letters, extensive website, podcasts, online bookstore, and events held around the world, InternationalLiving.com provides information and services to help its readers live better, travel farther, have more fun, save more money, and find better business opportunities when they expand their world beyond their own shores. InternationalLiving.com has contributors traveling the globe, investigating the best opportunities for travel, retirement, real estate, and investment.