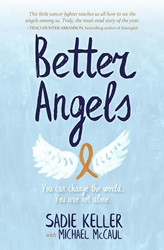 "At a time when you think nothing useful can get done in government, when the country seems completely divided, when you think that nothing but money drives whatever goes on in Washington, you just need to listen to Sadie." Congressman Michael McCaul
SAN MARCOS, Calif. (PRWEB) June 01, 2020
What an amazing young woman! - Kelly Clarkson
Better Angels is so inspiring and deeply personal, you can feel the honesty and emotion coming off the pages. - Amanda Maxlyn, USA Today Bestselling Author
I can't believe a 12 yr old girl wrote a book about her journey through cancer. For any of us who have had a hard time, this is gonna be a great read. Sadie, you go girl! Your book Better Angels rocks! - Jerry Harris of Cheer
This little cancer fighter teaches us all how to see the angels among us. Truly, the must-read story of the year - Traci Hunter Abramson, bestselling author of Entangled
Beautiful book by a brilliant young author! - Kristin Chenoweth
This is a book about hope. As a survivor, who courageously endured childhood cancer treatment, Sadie's insights and experience are particularly meaningful. Her work with Congress to help bring cures to children—not just in America but around the world, is compelling. - David G. Poplack, M.D., Professor of Pediatric Oncology, Baylor College of Medicine; Director, Global HOPE, Texas Children's Hospital
The book is message-driven and is written in an accessible and engaging style. Will resonate with young people who have experienced illness or wish to fight for others - Kirkus Reviews
Told in her own words, Sadie Keller's inspiring story will stir the soul of anyone who wants to find hope in the world. After being diagnosed with acute lymphoblastic leukemia at age 7, she was worried about whether Santa could deliver toys to all the kids in her hospital, so she started a toy drive. It became a movement that turned into a foundation and a national year-round program that has collected tens of thousands of toys for kids battling cancer. Along the way Sadie met hundreds of "cancer kids" and ended up having to say goodbye to some of her closest friends.
To help save other children, Sadie headed to Capitol Hill and teamed up with Congressman Michael McCaul. She became his favorite lobbyist and helped to pass the STAR Act that directed millions of dollars of research aimed at sparking next-level cures for childhood cancer.
About the authors:
"How much you live isn't all about the years, but about the people you touch, the difference you make, and the joy you bring to others." - Sadie Keller
These are the words of 12 year old cancer survivor turned advocate, Sadie Keller, in her first book "Better Angels." She was diagnosed at age seven with leukemia, fought it and WON! From the first day of her journey, she wanted to help other kids and shared her cancer story from her mom's closet on her YouTube channel. Her journey went viral. Sadie has come a long way since then and is now sharing her story full of determination and inspiration.
Sadie and the Congressman have been seen most recently on Fox & Friends, as well as Inside Edition, NBC Nightly News with Lester Holt, Fox News America's News HQ and America's Newsroom, CNN Situation Room with Wolf Blitzer, and numerous local television stations nationwide.
"At a time when you think nothing useful can get done in government, when the country seems completely divided, when you think that nothing but money drives whatever goes on in Washington, you just need to listen to Sadie." Congressman Michael McCaul
Congressman Michael T. McCaul is currently serving his eighth term representing Texas' 10th District in the United States Congress. The 10th Congressional District of Texas. Shortly after he was first elected to Congress, McCaul founded the Congressional Childhood Cancer Caucus to give a voice to the nearly 16,000 children diagnosed with cancer every year; and the survivors who face long-term health issues stemming from the treatments they received as children. He has worked to bring about major legislation in the fight against childhood cancer.
To learn more about Sadie's journey, the foundation, and "Better Angels, visit http://www.betterangelsbook.com
Better Angels is available at these online locations Amazon, Barnes & Noble, and IndieBound, as well in your local bookstore.
For more information, media inquiries, bookings contact or bulk orders:
Kiki Keating: m. 603-858-2733 e. kiki@kikinetwork.com
BETTER ANGELS You Can Change The World. You Are Not Alone.
By Sadie Keller and Michael McCaul
Publication Date: May 30, 2020
Publisher: Gavia Books
Pages: 250
Price (Paperback): $15.95
ISBN (Paperback): 978-0-9978808-5-4
You can find us @BetterAngelsBook / @BetterAngelsBK