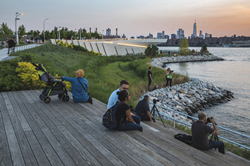 A Tasteful Place invites Dallasites and guests from the world over to investigate a new relationship with their food.
SAUSALITO, Calif. (PRWEB) May 16, 2019
Any celebration of landscape architectural designs is also a celebration of the increasingly diverse ways the profession is leading the charge to protect, revitalize, and transform today's cities. These fourteen newly honored spaces engage the land, water, plants and local cultures to create healthier communities around the world. Explore them to reimagine what's possible.

Landscape facelift for downtown convention center.
Avenida Houston, by SWA Houston; Merit Award, 2019 Texas ASLA
Avenida Houston transforms downtown's Convention Center District from a daytime-only business center into a livable and nationally notable cultural and recreational urban destination, making it the welcoming "front door" to the district. Guiding the design was a desire to create a pedestrian plaza to overcome the area's formerly auto-centric character. Avenida Houston distilled an 8-lane boulevard into a 2-lane thruway, allowing for a multi-functional, central gathering space activated by retail, dining, art, and events. The newly conceived area also references the central flyway offering myriad bird species a safe haven along their annual transcontinental journey, with echoes of their flight path in the pavement and lighting that directs pedestrians.
Blue Renew: The rebirth of an ailing Chinese river.
Buji River Urban Renewal Master Plan by SWA Laguna Beach; Honor Award, 2018 SoCal ASLA
A 13-mile-long river traversing a commercial district in Shenzhen is currently channelized and silted, with nearly half converted to underground culverts and thereby losing its natural flood control and drainage capacity. A railway and major urban road on either sides of the river create a buffer preventing access to the water. SWA's master plan integrates strategies for recreation, culture, ecology, and connecting with the people of Shenzhen. Major improvements to the eco-water system will relieve flooding pressure and improve water quality by 80 percent, create 42 acres of adjacent new green space, with 12 miles of new trails and 4.4 miles of new bike lanes, and expand the natural habitat by 38 acres.
Updating a neglected open space in the Midwest to welcome its neighbors.
Naftzger Park, Wichita, KA, by SWA/Balsley n NYC; Honor Award, 2019 New York ASLA
The existing one-acre Naftzger Park is re-envisioned as Wichita's new gateway—connecting Old Town with a burgeoning entertainment district near the Downtown Core. This space was designed in the 1970s to evoke a Victorian-style park. The space is rarely used by the general public, with the exception of an occasional site for prom pictures. The new Naftzger Park will activate the growing district and catalyze the development of adjacent commercial and retail parcels. While saving the best of the existing mature canopy, a large, new central lawn will host flexible programming for a range of visitors, from daily users to special events.
Luxury resort landscape integrates architecture into its surroundings.
Sanya Edition, in Hainan Province, China, by SWA Dallas; Merit Award, 2019 Texas ASLA
Located in the international tourism destination of Haitang Bay, this 32-hectare resort site includes a 500-room hotel, spa, and conference center, as well as a beach club, private villas, pools, and gardens. The undisputed recreational star is an 18,000-square-meter body of water known as the Private Ocean. Larger than three professional football fields, it provides a magnificent unifying amenity symbolic of the South China Sea. Hundreds of trees comprise the resort's gardens, with understory swaths of tropical vegetation throughout the site softening the modern architecture. Plantings extend into and from interior spaces, helping to achieve a seamless integration between indoors and out and easing the scale transition from massive modern buildings to the ground plane.
Linear park lauded for vast community impact.
Ricardo Lara Linear Park, Lynwood, CA, by SWA Los Angeles; Honor Award, 2018 SoCal ASLA
SWA transformed a one-mile stretch along the I-105 freeway from a series of vacant lots into a hive of activity. The park's community gardens, dog park, fitness stations, trails, and play structures draw visitors of all ages and backgrounds, whose pride in the park results in numerous gatherings and volunteer maintenance events. Marrying resilience with recreation, Ricardo Lara Park is named for the state senator whose persistence—together with the will of local leaders, critical funding, and the expertise of landscape architects from SWA—made it a reality. It has set a new precedent in leveraging underused land to give shape to the needs and desires of a community hungry for opportunities to engage with the outdoors.
Boulevard transformation enlivens one of China's fastest growing cities.
Shen Nan Boulevard Transformation, by SWA Shanghai; Honor Award, 2019 NorCal ASLA
The design team rethinks the nature of a traffic thoroughfare to transform a large-scale roadway to become more livable and resilient in a strategic way. A central stretch of Shenzhen is reimagined as functional landscape infrastructure: a new green resource interwoven through the urban fabric and shared by everyone. A long-term landscape master plan, short-term implementation plans for 2 years, and technical guidelines for 280-hectare thresholds along the 25.6-kilometer Shen Nan Boulevard will repair, reconnect, and enrich the City core, while energizing its margins and adjacent districts.
A prototype for responsible green site development.
San Jose Environmental Innovation Center, by SWA Sausalito; Merit Award, 2019 NorCal ASLA
A prototype for responsible site development, this reimagined brownfield in an industrial neighborhood integrates a diverse range of uses. Operating as a hub of green building and services in the community, a used building supply retail store; incubator research office space; countywide household hazardous waste collection facility; and city environmental services offices share a five-acre site designed for flexible day-to-day use while also accommodating special events. An interpretive art piece honors the area's agricultural past.
Recreation and resilience go hand in hand in this public open space refuge.
Hunter's Point South Waterfront Park, Phase II in Queens, NY, by SWA/Balsley, Weiss/Manfredi & ARUP; Honor Award, 2019 New York ASLA
A barren post-industrial site was transformed into a world-class, urbane and otherworldly park. The site is waterfront and city, gateway and sanctuary, blank slate and pentimento. The approach to the landscape enhances what is unique about the site, while framing a new multi-layered identity as a recreational and cultural paradigm. Employing innovative sustainable design strategies, SWA's team has woven infrastructure, landscape, and architecture into new open spaces with connections to the surrounding communities. The park provides access to the water's edge and spectacular views of the Manhattan skyline.
Heritage is foregrounded in New Hong Kong campus.
University of Chicago Booth School of Business, by SWA Sausalito; Merit, 2019 NorCal ASLA
This historic, cliff-side waterfront site was reactivated into a place with purpose. Interwoven layers of preservation and natural beauty support a marriage of building and landscape that leaves a light footprint on a site that once housed a military fortress and prison. Today a distinctive global campus honors the history of its earlier occupation while providing inspiration for the future. This special effort on Hong Kong's urban fringe transforms a heavily wooded hillside into a safe and inspiring refuge for business students, faculty, and visitors, with a history museum and walking trails open to the public.
One-acre California haven celebrates the nature of play.
Bicentennial Park, Hawthorne, CA, by SWA Los Angeles; Merit Award, 2018 SoCal ASLA
Providing new recreation opportunities in a park-poor neighborhood: After nearly 20 years of being closed, the park is now a lively setting for neighborhood recreation where encouraging intergenerational activities strengthens community bonds. Native planting and flowering bushes attract pollinators and butterflies in order to encourage environmental education through experience. Programmed with play structures, a natural bioswale and rocks are just as attractive to active children looking for a space to roam free. The park's design features the region's history as the nation's aviation center as a playful element, exposing generations young and old to the community's unique past.
Edible garden literally puts food on the table.
A Tasteful Place at the Dallas Arboretum, by SWA Dallas; Honor Award, 2019 Texas ASLA
Inspired by the English ornamental farm, visitors to this edible/display garden learn how plants and herbs can enhance cooking and be explored in their own backyards. Vegetal "rooms" defined by berries, citrus, and greens celebrate four seasons in a space hosting myriad tastings and harvests plus special events. SWA's design features a new terrace overlooking the garden, which includes trails, a pavilion, and a demonstration kitchen. With great design, operations and management, A Tasteful Place invites Dallasites and guests from the world over to investigate a new relationship with their food.
Thriving park balances safety concerns with economic might.
"S" River Park, Jiangxi Province, China, by SWA Sausalito; Honor Award, 2019 NorCal ASLA
This 5-kilometer serpentine park along the Gan River is conceived as a "living" shoreline that balances the needs for a vital economic waterway with its extreme water level fluctuations. A 24-meter-wide concrete levee was converted into a biking/jogging promenade with river views and the reintroduction of wing dykes there accommodates water transportation. The designers worked closely with the municipality and hydrologists to satisfy the community's desire for resilient, vibrant open space.
Landscape elevates the shopping experience at new creative complex.
Heights Mercantile, by SWA Houston; Merit Award, 2019 Texas ASLA
Heights Mercantile is a 2.3-acre mixed-use space centered on a bike trail in the heart of Houston Heights. It transformed vacant office and warehouse sites into a community-anchoring redevelopment featuring 16-first-to-market specialty brands and four chef-driven restaurant concepts. As the development's backbone, adjacent hike and bike trails link to a nearby park and the city's growing trail system. Houston Mercantile combats both auto-centric Houston and the sterile online shopping experience with an immersive environment that encourages activity and human interaction.
A playful garden for the child in everyone.
Dallas Arboretum Court of the Giant Toads, by SWA Dallas, Classic Award, 2019 Texas ASLA
A whimsical space full of energy, The Court of the Giant Toads has been a beloved city landmark since its creation in 1994. As a natural inhabitant of the garden, toads remind their visitors of the complex life cycle of amphibians, once aquatic then a terrestrial creatures. In a design inspired by the element of surprise encountered in many European gardens, visitors approach via a Crape Myrtle allee with a beautiful flagstone walkway through its center, where two solid bluestone basins contain three over-scaled bronze tadpoles, each chasing the tail of the next. These playful teasers introduce a square room of clipped hornbeams, where each of the four Giant Toads spews a 20-foot-long arc of water toward a central orb, delighting frequent visitors and newcomers alike.
About SWA:
For 61 years, SWA has been creating a more livable world through its thoughtful landscape architecture and urban design practice. The firm currently works from eight studios and has amassed over 800 awards. For more information and/or photographs, contact Communications Manager Julie Eakin, at jeakin(at)swagroup(dot)com; 212-734-6646.