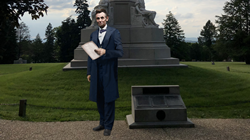 "Honoring the Battle of Gettysburg is just as important today as it was 157 years ago," said Michael McGar, president of QuantumERA™. "It was the turning point in the Civil War and the fight that led to freedom for slaves. Gettysburg shaped who we are as a people and a country."
GETTYSBURG, Pa. (PRWEB) June 29, 2020
With uncertainty about travel plans during the Covid-19 pandemic, history lovers are traveling to the battlefield virtually with Gettysburg: A Nation Divided, an AR360 app that uses mixed reality to recreate one of the most pivotal battles in American history. The app recreates the battle anywhere across the globe using 360-degree views, avatars of real people who lived through the battle, and narration by actor, Scott Eastwood.
"I was able to stand next to President Lincoln as he delivered the Gettysburg Address and joined forces at McPherson's Ridge when the first shot in the battle was fired, all without leaving my living room," said history enthusiast and University of Texas student, Jed Golman.
When used onsite, the historically accurate app overlays the battle onto locations where events took place 157 years ago. This feat is achieved with production-quality animation, geolocation, and an interactive map. It unites a storied location with modern-day technology to emulate time travel.
"Honoring the Battle of Gettysburg is just as important today as it was 157 years ago," said Michael McGar, president of QuantumERA™, the content creation company that developed Gettysburg: A Nation Divided. "It was the turning point in the Civil War and the fight that led to freedom for slaves. Gettysburg shaped who we are as a people and as a country. It's critical that we take time to remember what those before us fought for and what they achieved."
QuantumERA is a leading content creation company that creates mixed-reality experiences. They are most well-known for their award-winning Experience Real History™ brand that recreates the Battle of the Alamo through augmented reality apps and products.