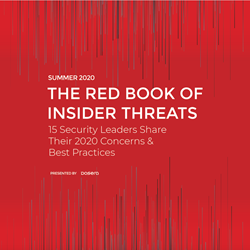 Multiple CISOs and security execs say insider threat to grow significantly and become more sophisticated in the 2020s. The Red Book of Insider Threats is a must-read for every CISO, CIO, and board member.
SUNNYVALE, Calif. (PRWEB) July 30, 2020
Dasera, a cybersecurity company announced the release of "The Red Book of Insider Threats - Summer 2020", a book, co-authored with leading CISOs, cybersecurity product leaders as well as consulting partners. The book, created with 15 senior executives in the first edition, dives into their views and strategies to deal with insider threats - a broad term to cover any kind of security or data related incidents caused directly or indirectly by employees, partners, contractors of a business. The recommendations from these seasoned security and data practitioners are also compiled in the form of a checklist for organizations to understand their current approach and gaps.
"I strongly believe every CISO should read the Red Book," said Mark Weatherford, Chief Strategy Officer and Board Member at National Cybersecurity Center. "Apart from the fear of losing data, companies also need to think about addressing the privacy of every individual consumer from every insider that uses the data. I'm very pleased to be a part of the book and look forward to learning from all the other leaders who are a part of this initiative."
"Insider threats are very serious and have only become more dangerous with the current remote work situation," said Amol Kulkarni, Chief Product Officer at CrowdStrike, another of the executives who co-authored this book. "The organization's perimeter has disappeared and we need to rise to this new challenge. We're very glad to be a part of the Red Book initiative."
Key content pieces from the book include:

15 CISOs, CIOs, Security & Consulting leaders explain how they think of and address insider threats
Actionable insights: Learn from three key best practices shared by all executives and replicate them within your organization
Think different: The four key chapters of the book invite you to think outside of the box, e.g. from the point of view of how you define an insider, different kinds of costs to consider, and how you think of your security stack
Checklist: Leverage the checklist at the end of the book to organize your own thinking on insider threats, along with your team
"Every company we know wants to enable employees with technology and data, but also do so responsibly. In the cybersecurity space, we don't talk about insider threats as much as we discuss and dissect external threats," said Ani Chaudhuri, CEO and co-founder of Dasera. "The Red Book is our humble attempt at building momentum around the topic of insider threats through a community of leaders who've been on the frontlines for many decades."
You can read The Red Book of Insider Threats: Summer 2020 online or request a hardcover copy.
About Dasera:
Dasera helps build trust between consumers and companies by enabling safe internal use of sensitive data. Our query analysis engine automatically finds, flags, and rewrites unsafe queries in data warehouses.