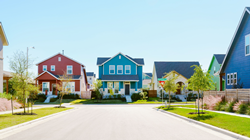 AUSTIN, Texas (PRWEB) April 15, 2021
As Austin nears its 200th anniversary and the city continues to grow, Goodnight Ranch, a mixed-use neighborhood in southeast Austin, maintains its promise to provide residents with an affordable, sustainable and walkable community within city limits. When Goodnight Ranch first approached the city to develop the 700-acre ranch and dairy farm, the company anticipated residents would want to live near good schools, have access to the outdoors and experience shorter commutes. As the project began development, the city put together the Imagine Austin plan, which sought to provide Austin residents with places to gather, educate children, take advantage of outdoor spaces and provide employment opportunities, while addressing the issues of affordability, sustainability, transportation and accessibility.
Earlier this year, the Austin Board of Realtors Central Housing Report revealed the extent of these issues by showing the median sales price of an Austin home is now $491,000, a 24.3% increase over last year. As prices have risen, Goodnight Ranch has continued to offer residents several different housing options at attainable prices, while also meeting the needs of the Imagine Austin plan. Located off of Slaughter Lane, 13 miles from The University of Texas at Austin, 10 miles from downtown and five miles to Austin-Bergstrom International Airport, Goodnight Ranch is well-connected to important areas of the city, while also taking advantage of the surrounding green spaces. The neighborhood is located near golf courses, sports complexes, McKinney Falls, and is also adjacent to the master-planned 550-acre Onion Creek Metropolitan Park, meaning residents can walk outside their homes and enjoy a park that is almost twice as large as Zilker Park.
Onion Creek Metropolitan Park includes playscape areas, trails fit for horseback riding, biking, walking and running, and an off-leash dog park. The development also boasts outdoor flex spaces, pocket parks, picnic areas, playgrounds, open gathering areas, community ponds, birding opportunities, additional areas for outdoor activities, trails, and natural landscapes. Additionally, the new Amenity Center opened in 2020, adding a community pool and splash pad, fire pit, playscape, outdoor ping pong table, great lawn, hammock park, and other outdoor gathering areas.
The access to nearby green spaces was just one feature emphasized in last year's Homegrown Highlights, an initiative that shone a spotlight on residents of Goodnight Ranch. While residents were not able to gather in person, the Homegrown Highlights provided an opportunity for the residents to get to know their neighbors in a safe manner that displayed the diversity of the Goodnight Ranch community and the many reasons they love living there. Through a collection of stories, the Homegrown Highlights spotlighted six groups of residents discussing their favorite aspects of the community, including socially distant happy hours with neighbors, walks and bike rides along the trail system, quarantine book clubs, and continued support for neighborhood businesses.
As evidenced by the Homegrown Highlights, Goodnight Ranch provides sustainable and attainable housing for residents of all ages and stages of life by catering to the needs of young professionals, families, and empty-nesters, while adapting to the needs of each group. Moonlight Gardens at Goodnight Ranch is designed for the millennial market, offering apartment living options with contemporary kitchens and smart home capability. For residents looking for a single-family detached home, but not ready to purchase, the Urbana at Goodnight YardHomes™ offers homes for rent that are available for those who need more room or who would like a more traditional living space. As residents look to expand their families, Goodnight Commons provides an affordable, multi-family community available to those earning less than 80% of the Austin Median Family Income and includes an on-site pool and library. For active seniors looking to take advantage of the community's green spaces and connectivity, Nightingale at Goodnight Ranch is a perfect fit of the age-restricted community and has 174 units available to mixed-income seniors.
In its commitment to further the next generation of Austinites and Goodnight Ranch residents, the neighborhood is currently home to two Austin Independent School District (AISD) schools – Blazier Elementary, a TEA 6-star rated campus, and the new Blazier Intermediate School. In 2017, AISD closed on the site for a future high school campus, which will complete a type of "educational village" all within Goodnight Ranch. These educational expansions make Goodnight Ranch a community in Austin where young residents from kindergarten through 12th grade will be able to walk to all levels of their education. Additionally, the Goodnight Ranch team has developed a fund that will help support and enhance learning opportunities for the residents of the neighborhood.
In its first phase, Goodnight Ranch has primarily focused on residential space, completing about 1,300 residential units. Breaking ground this year will be The Ramble at Goodnight Ranch, the first mixed-use neighborhood retail development in the community. The Ramble will continue to build on the vision of providing residents with employment options and a centrally located commercial and retail hub that will bring a friendly space for people to browse and shop, run weekly errands, and enjoy time out with the family — all without having to leave the neighborhood. With 32,000 square feet of mixed-use property located on the corner of East Slaughter and Goodnight Ranch Blvd, The Ramble will allow for residential, retail, cafe and office space.
Additionally, in response to the Imagine Austin plan to provide much needed housing within Austin city limits, Goodnight Ranch is working on a Planned Unit Development (PUD) amendment. The PUD amendment will ask to increase the available housing supply to 6,300 residential units and 630,000 units of employment, commercial and public facilities.
"When we first opened up Goodnight Ranch four years ago, we wanted to create an opportunity for folks to fully immerse themselves in an energetic neighborhood through sustainable development and a thoughtful plan focused on connectivity. We remain strong in our commitment to create a community of reasonable and affordable homes with access to the outdoors and neighborhood services for every stage of life within city limits," said Myra Goepp of Goodnight Ranch. "As we near completion of phase one and look back to when we first began planning Goodnight Ranch 15 years ago, it's great to see how we've met and adjusted our vision, while also ticking every box of the Imagine Austin plan. As we break ground on The Ramble, we're even more excited to continue to expand on those needs with the first of several additions of commercial and retail space."
For more information about the Goodnight Ranch community, please visit http://www.liveatgoodnight.com.
About Goodnight Ranch
Goodnight Ranch is a mixed-use neighborhood set to transform a former dairy farm and family ranchland in southeast Austin into a vibrant, walkable, tree-lined urban hub. The 700-acre site is anticipated to fully mature over the next 7-10 years and is expected to include up to 3,500+ homes; a mixed-use town center; three AISD schools; 275,000 square feet of retail space; more than 120 acres of open space; and landscaped streets designed to integrate a safe network of bike paths, trails and sidewalks. The first phase of the project, the north quadrant, is adjacent to Slaughter Lane and includes a mixture of yard homes and condominiums, senior living, multi-family, community parks, and Blazier Elementary and Intermediate School. Plans to develop the southside of the property are underway with the addition of more residential space, a new amenity center and greater focus on additional commercial sites. For more information, visit http://www.liveatgoodnight.com.