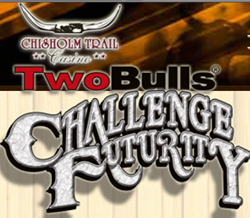 DUNCAN, Okla. (PRWEB) April 12, 2019
The 16th Annual TwoBulls Challenge Futurity will be held April 26-27, 2019 at the Stephens County Fair & Expo Center in Duncan, OK. Two Bulls features great bulls and riders teaming up to test their talent. Bring out the whole family to this fun event and watch from the edge of your seat as bucking bulls take to the arena.
The TwoBulls Symbol represents the courage, strength, and stamina of two great animal athletes, the "Bucking Bull and Fighting Bull" which are at times one and the same, a mirror image of each other.
TwoBulls is a multifaceted company that evolves from founder Jim D. McClain's 23 year career as a professional bullfighter. Innovative in design, TwoBulls serves niche markets with products and services that provides fulfillment to specific consumer needs.
Founded on the principles of providing reliability in products, and responsibility in work, TwoBulls is dedicated to the ethic that You cannot negotiate quality.
For more information, please visit http://www.twobulls.net.