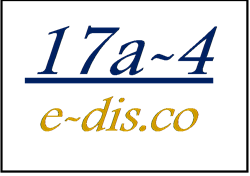 A must read for any institution without a retention policy.
Millbrook,NY (PRWEB) May 28, 2014
17a-4 llc has provided support to many institutions to develop and implement email retention and disposition programs and has formalized the process so that, at minimal cost and institutional risk, a client can commence the process of disposing of legacy email records. All too often, the entire email repository is retained because there is no effective way to manage legal holds and on-going e-Discovery productions. IT departments spend an extraordinary amount of time and resources managing email records which are of no value to the organization and, more importantly, may represent a litigation risk.
17a-4's guidebook covers 10 essential steps including; leveraging an institutional archive, setting corporate retention dates, implementing a legal hold facility and introducing archive folders that will allow a user or department to retain content longer than the default retention allowance. These steps provide the necessary assurances for legal departments to allow for effective email disposition policies. For instance, the HR department can move emails from their inbox to a departmental folder for those emails which may pertain to HR matters such as retirement benefits, workplace conditions or health coverage. "10 Steps for Email Disposition" outlines these procedures for IT, Legal and Compliance to leverage the technology on hand to engage in an efficient disposition policy.
"With the advances in archival technologies over the past five years, there is no reason that an institution should keep email records forever," offers Charles Weeden, Compliance Director. "Still we find a vast majority of our clients still cannot convince their legal departments to allow for disposition."
For more information on "10-Steps for Email Disposition" guidebook or 17a-4's Compliance Services please call (212) 949-1724 or visit http://www.17a-4.com.
About 17a-4 llc:
17a-4 is a compliance services and software company with a focus on e-messaging and software solutions to meet regulatory and e-Discovery needs of institutional clients. Clients that are required to adhere to SEC, FINRA and CFTC regulations leverage 17a-4's expertise to ensure their information infrastructure is in compliance. 17a-4's architecture provides for a single-point in which all e-messaging content may be managed for retention, legal and regulatory holds and e-Discovery productions. E-discovery services are handled by 17a-4's e-Dis.co division. 17a-4 and e-Dis.co are based in New York City but operate remote offices nationwide.
All product and company names herein may be trademarks of their registered owners.