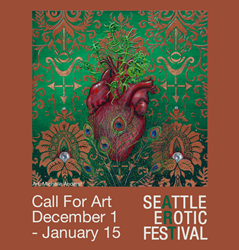 "I'm looking forward to a good balance of political art, as well as art that focuses on the joy of connecting with another person," said Festival Director, Sophia Iannicelli.
SEATTLE (PRWEB) December 07, 2018
The Seattle Erotic Art Festival is accepting art submissions December 1 through January 15, for the 17th annual Festival, to be held April 26-28 at the Seattle Center Exhibition Hall. Selected art will be featured throughout the event to thousands of patrons.
"I'm looking forward to a good balance of political art that explores agency, the Me Too movement, and gender, as well as art that focuses on the joy of connecting with another person sexually," said Festival Director, Sophia Iannicelli.
The Call For Art closes on Tuesday, January 15, 2019. All artists 18 and older, from anywhere in the world, are encouraged to submit art at SeattleErotic.org.
Call for Visual Art: On average the Festival sells more than 28% of exhibition art, has low submission fees, and competitive commission rates. Artists may submit up to five works of erotic art of any medium. Sculptors, multimedia artists, and painters are particularly encouraged to apply. Visual art for the festival is selected through a "blind" jury process. This means each piece of art is evaluated on its own merit and the jury is not influenced by an artist's fame, or lack there of.
Call for Installation Art: Installation art is extremely popular at the Festival, and artists enjoy significant notoriety as a result of media and audience reviews. The Festival is happy to be able to offer grants for installation pieces. Selected artists may be granted up to $300 to create works of art that feature a participatory element and invite the audience to become part of the art. Artists may submit up to three installation proposals. Installations are selected by the Installations Director, Andrew Moran.
Call for Literary Art: The Festival is proud to feature work by poets, playwrights and authors from across the nation and world. Selected works are exhibited through both live and recorded readings and collected in a professionally printed anthology. Artists may submit up to five pieces. Literary art is curated by the Literary Director, Briana J.
Call for Store Art: The popular Festival Store is a museum-quality shop that features thousands of works of erotica selected to meet every budget and taste. The Store includes prints, small works, jewelry, cards, books, collectibles, and more. All artists accepted into the Visual or Literary Exhibition are also accepted into the Store. This year, there will be no submission fee for Store submissions.
Call for Performance Art: The Festival showcases ambient performances throughout the space. Performers are encouraged to submit an application to create an original piece or adapt an existing piece of work, based on an aspect of the erotic. Performances are selected by internationally performing artist and co-producer of Sinner-Saint Burlesque, Jesse Belle-Jones.
The Festival also showcases ambient and interactive performances throughout the space. Interactive performers are both encouraged to come with a proposal, and also to collaborate with other performers within the Interactive Troupe. Interactive performers are selected by the Interactive Performance Lead, Aimee.
Additional Details: Artists may apply to as many Calls for Art as they wish, though each Call for Art has distinct requirements and may have submission fees. Early-bird (discounted) submission fees apply until Saturday, December 15. All artists outside of North America apply for free. All artists and models depicted must be age 18 or older.
For additional information about any of the Calls for Art, please visit SeattleErotic.org or email info(at)SeattleErotic.org.
Seattle Erotic Art Festival encourages the creation, enjoyment, and purchase of erotic art–sparking conversations to ignite personal and cultural evolutions.
The Festival is the flagship program of the nonprofit Pan Eros Foundation, which celebrates and cultivates sexuality through education and the arts.