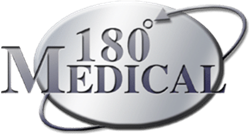 Throughout the year and despite most of us working remotely during this time, we have grown closer as an organization, and we have developed new processes and protocols to ensure the safety of our employees.
OKLAHOMA CITY (PRWEB) October 29, 2020
180 Medical, one of America's fastest-growing providers of home-delivered disposable medical supplies, including sterile-use intermittent catheters, ostomy supplies, and incontinence products, is pleased to announce its 11th year being named one of Oklahoma's Best Places to Work by the Best Companies Group and the Journal Record.
The Best Places Awards are determined through a process of researching Oklahoma-based employers and allowing employees to fill out anonymous surveys regarding their working conditions. 180 Medical is committed to the safety and well-being of all employees and believes that the way employees are treated directly correlates with the level of service they provide the customers of the organization.
This year, Best Companies Groups' anonymous employee survey included additional questions regarding how well their employer handled COVID-19 workplace communication and safety issues. During the early stages of the COVID-19 outbreak in United States, 180 Medical acted quickly to put their staff's health first by asking the majority of their employees who are able to perform their jobs remotely to begin working from the safety of their homes. Through digital connections, 180 Medical has made an easy transition for employees to successfully work from home while also fostering positive work relationships.
Director of Human Resources at 180 Medical, Angie Christopher, explained why this honor means something extra special during a global pandemic saying, "In light of the unprecedented year that we all have experienced due to COVID, it is a great feeling to know that our employees still feel that this is a great place to work, and that even in crisis, we strongly care for our employees and their families as much as we do our customers. Throughout the year and despite most of us working remotely during this time, we have grown closer as an organization, and we have developed new processes and protocols to ensure the safety of our employees.  We are proud that, no matter what, we can create an environment that employees continue to enjoy and are proud to work for this company."
Those interested in joining the 180 Medical team and working for one of the Best Places to Work in Oklahoma are encouraged to visit 180medical.com
About 180 Medical:
180 Medical is one of America's fastest growing home delivery providers of intermittent catheters, ostomy products, incontinence products, and other related urologic disposable medical supplies. Based in Oklahoma City, the company is dedicated to meeting the supply needs of customers with diagnoses such as urinary incontinence, spinal cord injuries, spina bifida, colon cancer, Crohn's disease, and many other conditions that require catheterization and ostomy supplies. 180 Medical is a subsidiary of ConvaTec, a leading global medical products and technologies company. For more information, please contact Angie Christopher, Director of Human Resources at 405-702-7700