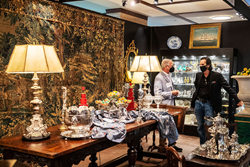 OMAHA, Neb. (PRWEB) October 02, 2021
After a hiatus in 2020, the 18th annual Lauritzen Gardens Antiques Show was held Thursday, September 9 through Sunday, September 12. The four-day event, presented by Mercedes-Benz of Omaha, raised $2,127,301 (a record gross) to benefit the operation and continued growth of Lauritzen Gardens. With extensive planning in cooperation with local health officials, the event committee made numerous adaptations to the event and increased health and safety protocols, thus allowing more than 4,100 patrons to enjoy high-quality antiques, renowned designers, beautiful horticultural displays, and inspiring educational opportunities in-person.
Inspired by the foundation laid in 2004 by the late Kimball Lauritzen and her friend, founding chair Mary Seina, and co-founding chair Cindy Bay, the Lauritzen Gardens Antiques Show has nearly doubled in size in terms of attendance and has tripled in gross funds raised. Under the leadership of the 2021 co-chairwomen Julie Kenney, Susan McGillick, and Ann Tjaden, honorary chairs Dr. Amy Haddad and Steve Martin, and chair of the advisory committee Jan Vrana, the show once again set the standard for elegance, artistry and culture across the region.
"We are extremely grateful to the contributors who supported the event in 2020 despite the absence of an event, and to those who continued to support the show in 2021," said John Newman, executive director of Lauritzen Gardens. "It is the generosity of our community that helps our public garden grow, thrive, and provide meaningful experiences in nature for our community."
Serendipity was the theme of the show, paying homage to the delightful chance meetings with friends that occur each year during the event, the unexpected discoveries found in the booths of the antiques exhibitors, and the splendid treasures that are growing in the collections of Lauritzen Gardens. Guests were greeted with a custom engraved swing from The Oak & Rope Company featuring a stylized "Serendipity." Additional décor elements throughout the show; from elegant sculptures to playful swings and from sophisticated seating areas to an artistic assemblage of stained-glass windows, created an environment that encouraged guests to rediscover the magic of the show and delight in the excitement that at any moment, something wonderful could happen.
The event's Preview Day was held on Thursday, September 9 with tiered event times that offered enthusiastic collectors the first look at the treasures brought by the nearly 25 antiques exhibitors. An elegant champagne reception was held for show donors from 4:30 to 6 p.m., followed by an evening event with cocktails and hors d'oeuvres.
Celebrated interior designer Timothy Corrigan headlined Friday's luncheon and took attendees into his world of comfortable elegance. Known for creating refined yet functional interiors, Corrigan focused on his definition of elegance, on creating symmetry in spaces, and shared decorating tips and tricks that are affordable, but look expensive and luxurious. He urged guests to "buy quality objects for a space that bring you pleasure and contentment," but to challenge the way that the objects are used to make rooms feel livable and stress-free.
Saturday's lecture featured interior designer Cathy Kincaid, known for her fresh approach to combining classic and contemporary design with a refined sensibility. She shared a collection of the warm and gracious interiors she has designed for clients; featuring nuanced color palettes, layered patterns, antiques and art, and customized details. Kincaid sprinkled advice throughout the presentation on how to select signature pieces and edit one's home to achieve a comfortable yet sumptuous home environment, emboldening attendees to create inviting, livable spaces of their own.
To close out the weekend, Napa Valley winemaker and Nebraska native, Lawrence Fairchild treated the luncheon crowd to an incredible experience for the palate. He delivered a thought-provoking lecture on life and making the most of the time we have; including the company we keep, the food we eat, the places we travel, and the wine we drink. Fairchild walked the crowd through the process of creating his highly sought-after wines and led attendees through a tasting of two of his hand-picked red wines, 2018 Fairchild Sigaro Cabernet Sauvignon and 2018 Stones No. 3 Cabernet Sauvignon. The flavorful and wine-friendly meal, prepared by Abraham Catering, featured salt and pepper rubbed butcher's cut filets and bacon from Omaha Steaks.
Collectors of all levels and areas of interest were encouraged to attend one of the show's complimentary educational sessions. Led by experts in their field, antiques exhibitors and designers engaged in daily Antiques & Design Academy sessions. Designer walks also gave patrons the opportunity to see the show from the eyes of local interior designers and hear how they would incorporate select pieces into their homes.
For 2021 show details, including a complete list of exhibitors, visit omahaantiqueshow.org.
The 2022 Lauritzen Gardens Antiques Show will be held September 29 through October 2 and will be chaired by Ellie Clinch and Patricia Hawkins Stillmock.