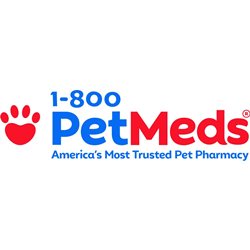 We remain committed to providing all customers with the same exceptional level of service, respect, and dedication to quality on which we have built our company over two and a half decades
DELRAY BEACH, Fla. (PRWEB) January 05, 2021
To ring in the New Year and our 25th year in service, 1-800-PetMeds® is excited to announce a new logo. 2020 was quite a whirlwind and we couldn't be more excited to share the new logo that we spent so much time and thought on.
For 25 years, 1-800-PetMeds® has tirelessly committed to helping pets get the medication they need delivered right to their doorstep. From the old-school catalogs to the new age digital marketing, 1-800-PetMeds® has always operated with one goal in mind: keeping your pet healthy and happy.
This new logo continues to embody our same core values of quality, expertise and customer service which we have been committed to through the years. The new logo features our same name and tagline, but with a twist that brings us into the present. In fact, the inspiration for the new design came from consumer feedback so it would best represent the 1-800-PetMeds® everyone knows and loves.
"We remain committed to providing all customers with the same exceptional level of service, respect, and dedication to quality on which we have built our company over two and a half decades," said Mendo Akdag, President and CEO of 1-800-PetMeds®.
Take a peek at our new look by visiting our website, petmeds.com, and if you have any questions, don't hesitate to reach out to our support team.
About 1-800-PetMeds®
Founded in 1996, Petmeds.com is America's Most Trusted Pet Pharmacy® providing fast, easy and helpful service to over ten million customers across the U.S. by delivering prescription and non-prescription medications and pet supplies for less, direct to the consumer through its 1-800-PetMeds® toll-free number, on the Internet through its website Petmeds.com, or with the 1-800-PetMeds® mobile app available for free at Google Play for Android and the App Store for iOS.