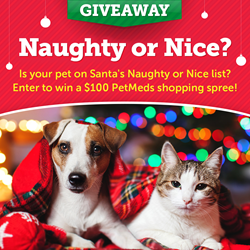 "Jesse is both [naughty and nice], she gives us so much love but there are those days…but she still deserves the best Christmas ever!" - Catherine, a Naughty or Nice Sweepstakes entrant
Delray Beach, Florida (PRWEB) December 06, 2018
It's about that time of year for your pet's performance review. Did your pet make Santa's Naughty or Nice list? This holiday season, 1-800-PetMeds® is inviting pet parents to enter the Naughty or Nice Sweepstakes and tell us all about how their pet was naughty or nice this year.
Three lucky winners will get to take matters into their own hands. Each winner of the Naughty or Nice Sweepstakes will be given a $100 merchandise credit that can be used on anything we carry at 1-800-Petmeds®. Don't fret! Pet parents whose pets have been a little naughty this year can also be winners!
Even if pets have been a little naughty from time to time, they too deserve something special for the holidays! Catherine, a Naughty or Nice Sweepstakes entrant says, "Jesse is both [naughty and nice], she gives us so much love but there are those days…but she still deserves the best Christmas ever!"
Those pets that have been perfectly behaved all year can be rewarded with a new bed, toys, treats and more! On the other hand, pets that may have fallen off the wagon a few times can greatly benefit from training treats, training aids, and even stress reducers, in case anxiety and stress are the cause for inappropriate behavior.
The Naughty or Nice Sweepstakes started at 12:01 AM Eastern Time ("ET") December 5, 2018, and ends on December 21, 2018, at 11:59 PM EDT. Three (3) winners will be chosen at random on Monday, December 24, 2018. To enter, visit the Naughty or Nice Sweepstakes page, tell us how your pet was naughty or nice this year, and submit your entry! No purchase is necessary to enter or to win, and a purchase does not increase the chances of winning.
About 1-800-PetMeds®
Founded in 1996, 1-800-PetMeds® is America's Largest Pet Pharmacy® providing fast, easy and helpful service to over ten million customers across the U.S. by delivering prescription and non-prescription medications and pet supplies for less, direct to the consumer through its 1-800-PetMeds® toll-free number, on the Internet through its website 1-800-PetMeds.com, or with the 1-800-PetMeds® mobile app available at Google Play for Android and the App Store for iOS.