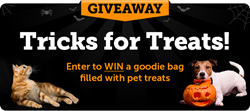 "We taught Ecko to shake and now he gives us his paws completely without us asking" - Lindsay, a Tricks for Treats Sweepstakes entrant
DELRAY BEACH, Fla. (PRWEB) October 22, 2018
This Halloween, it's all about the tricks and treats! 1-800-PetMeds® is asking you to forget those scary, uncomfortable costumes and focus on the sweet tricks your pet does for treats!
Teaching our pets tricks is one of the best ways to build a strong, lasting bond with them—especially when it includes treats! Not only does it strengthen the bond between pet and parent, but it also encourages better behavior, enhanced concentration skills, and overall obedience.
Pets are much more intelligent than what we give them credit for. It's amazing what both dogs and cats can learn. Lindsay, a Tricks for Treats Sweepstakes entrant says, "We taught Ecko to shake and now he gives us his paws completely without us asking so we can put his shoes on before we take him out."
For most pets, the most effective way to teach your pet tricks is through positive reinforcement and endless treats. Generally, the majority of pets are very food motivated, which makes it easier to teach them a new trick, cats included! The Tricks for Treats Sweepstakes Prize packages consist of goodie bags filled with tasty (and healthy) treats for dogs or cats. The goodie bag for dogs comes with 7 different types of treats, including 1-800-PetMeds® Gourmet Dog Biscuits, Crumps Naturals Sweet Potato Chews, Blue Buffalo Wilderness Turkey & Chicken Dog Treats, and more! For cat winners, the prize package consists of 6 different types of treats, including Feline Greenies Chicken Flavor Dental Treats, Lean Treats for Cats, Grizzly Salmon Fillet Treats, Organic Catnip, and other cat favorites!
The Tricks for Treats Sweepstakes has been running since 12:01 AM Eastern Time ("ET") October 1, 2018, and ends on October 28, 2018, at 11:59 PM EDT. Fifteen (15) winners will be chosen at random. To enter, visit the Tricks for Treats Sweepstakes page, tell us about your pet's best trick, and submit your entry.
About 1-800-PetMeds®
Founded in 1996, 1-800-PetMeds® is America's Largest Pet Pharmacy® providing fast, easy and helpful service to over ten million customers across the U.S. by delivering prescription and non-prescription medications and pet supplies for less, direct to the consumer through its 1-800-PetMeds® toll-free number, on the Internet through its website 1-800-PetMeds.com, or with the 1-800-PetMeds® mobile app available at Google Play for Android and the App Store for iOS.