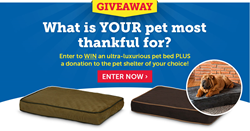 "My pet is most thankful for the love I have for her and the special bond we share..." - Emily, a Thankful Pet Sweepstakes Entrant
(PRWEB) November 06, 2018
Even though pets can get on our nerves from time to time, pet parents can't help but be grateful to wake up to a furry, friendly face every day. However, this November is all about how thankful our pets are for us!
It may not always be obvious, but every day our pets express gratitude for the love and care they receive every day. Generally, any attention from a pet is a sign of adoration and appreciation, whether it's a sloppy, wet kiss or heavy lean from a dog or a delicate nose nudge or biscuit-making session from a cat.
The Thankful Pet Sweepstakes winners will have their choice of color and size of the ultra-luxurious, 5-inch foam Snoozer Outlast Pet Bed Sleep System, perfect for both cats and dogs! Plus, in honor of the giving season, 1-800-PetMeds® will also send a gift box of pet supplies to the shelters of the winners' choice!
Although cats and dogs have different ways of expressing their love and gratitude, it's no doubt pets are full of unconditional love. Emily, a Thankful Pet Sweepstakes entrant says, "My pet is most thankful for the love I have for her and the special bond we share, as well as all the food and treats."
The Thankful Pet Sweepstakes started at 12:01 AM Eastern Time ("ET") November 4, 2018, and ends on November 25, 2018, at 11:59 PM EDT. Three (3) winners will be chosen at random on Monday, November 26, 2018. To enter, visit the Thankful Pet Sweepstakes page, tell us how your pet shows you love, and submit your entry.
About 1-800-PetMeds®
Founded in 1996, 1-800-PetMeds® is America's Largest Pet Pharmacy® providing fast, easy and helpful service to over ten million customers across the U.S. by delivering prescription and non-prescription medications and pet supplies for less, direct to the consumer through its 1-800-PetMeds® toll-free number, on the Internet through its website 1-800-PetMeds.com, or with the 1-800-PetMeds® mobile app available at Google Play for Android and the App Store for iOS.