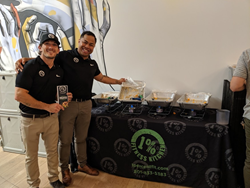 Not only do all of these promote a healthier workforce, but it can positively affect your employee's performance.
SANDY, Utah (PRWEB) November 04, 2019
1% Fitness is transforming the way people fuel their bodies once again. Through their Healthy Employee Lifestyle Program (H.E.L.P.), 1% Fitness provides businesses with nutritious meals that keep employees happy and healthy without hurting the bottom line.
"We knew businesses needed a better way to feed their employees," said founder Rob Molling. "That's why we developed H.E.L.P. This corporate wellness program transforms how you treat your employee's health. Forget the unhealthy catered lunches and snacks. Now, 1% Fitness in Utah gives you control over your company's health."
H.E.L.P. is a customizable service that includes meal preparation, lunch & learns, corporate contests, healthy catering, weekly calibration, transformation challenges, body composition testing, online coaching, training, and more.
Not only do all of these promote a healthier workforce, but it can positively affect your employee's performance. Altogether, working with 1% Fitness, business owners can find a health-focused program that increases their company's bottom line.
"Some businesses may need healthy catering while others want to offer their employees a complete online meal prep program. Whatever you need, H.E.L.P. is here," said Ryan Stevens, 1% Fitness's Sales Director.
As part of H.E.L.P. services, businesses can hold corporate contests to get their employees on the right path. These contests can be held up to 12 weeks and include prizes such as gift cards, cruises, gym membership, fitness equipment, discounts to 1% Fitness, and 1% Fitness humanitarian service trips. These contests are a great way to boost morale around the office while creating a healthy culture for all involved.
Working with the 1% Fitness team, businesses can create a H.E.L.P. program personalized to fit their company and employees' needs.
About 1% Fitness
1% Fitness focuses on the importance of nutrition by providing Utah residents with meal prep services as well as shipping all over the western United States. Each week chefs deliver pre-cooked, healthy, clean, nutrient-dense meals prepped with customer's personalized diet in mind. Customers can pre-order their weekly meals online and pick them up in-store or have them delivered to their door in available locations. For more information about 1% Fitness visit 1percentfit.com or call (801) 833-5383.