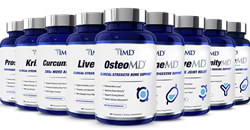 As people's overall well-being becomes even more of a priority in the coming months, it will be crucial for nutritional brands, like 1MD, to lead the charge in helping empower people to take charge of their whole health. -- Ben Flohr, Scale Co-Founder
LOS ANGELES (PRWEB) September 14, 2020
Scale Media announces that 1MD, their premier nutritional supplement brand, has recently expanded their product portfolio with the launch of three scientifically-proven, direct-to-consumer solutions: D3, MindMD, and MagMD Plus. Developed by physicians, these supplements support the brand's continued focus on bridging the gap between medicine and nutrition and helping people live healthier lives.
These three nutritional supplements add to 1MD's growing lineup of products already launched earlier this year, which included ProstateMD, OsteoMD, and VisionMD. Available on the brand's website https://1md.org/, the latest 1MD products are:
D3 – Vitamin D3 in its most naturally bioavailable form
MindMD – Curcumin C3® and Centellin® for powerful mood and cognitive support
MagMD Plus – Three bioavailable forms of Magnesium and Zinc plus vitamin D3
1MD is one of five next-generation consumer lifestyle brands powered by Scale Media, an award-winning, tech-driven company in the beauty, health and wellness sector. Scale plans to release additional groundbreaking 1MD nutritional products early next year.
Scale Co-Founder, Ben Flohr, who spoke last month as part of the leadership panel at the Nutrition Business Journal Summit Digital Days 2020 event, said: "As people's overall well-being becomes even more of a priority in the coming months, it will be crucial for nutritional brands, like 1MD, to lead the charge in helping empower people to take charge of their whole health."
Learn more about 1MD at https://1md.org/.
About Scale:
Headquartered in Los Angeles, California, Scale is a tech-driven direct-to-consumer company that builds and deploys next-generation CPG brands in the beauty, health and wellness industries. Through their proprietary eCommerce and digital marketing engine, Scale transforms consumers' end-to-end online shopping experience while increasing brand loyalty and retention. Founded in 2013 by serial entrepreneurs Ben Flohr and Ziv Haklili, the company has rapidly powered and scaled concepts into multi-million-dollar consumer lifestyle brands, including 1MD, Hair La Vie, Simple Beauty, LiveWell, and Essential Elements. Today, Scale's growing portfolio of 70+ products helps hundreds of thousands of people live healthier lives. The company is recognized as a Forbes' Best Startup Employer for 2020, and is the 2020 recipient of the NBJ Leadership & Growth Award. Learn more at Scale.tech.
Media Inquiries: Nicole Khandhar, Director of Operations, Scale Media