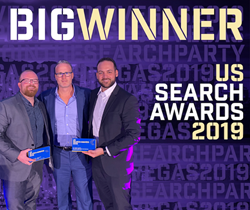 PHILADELPHIA (PRWEB) October 24, 2019
On Wednesday, October 9, 2019, the 7th annual US Search Awards ceremony took place at Sahara Las Vegas Hotel & Casino. There, the digital marketing and search industry's best and brightest firms from across North America went toe-to-toe in hopes of being celebrated for their efforts across Search Engine Optimization (SEO), Pay-Per-Click Advertising (PPC), as well as content and social media marketing.
After qualifying as shortlist finalists for fourteen out of fourteen search category submissions, 1SEO.com Digital Agency brought home two awards from the 2019 USSA ceremony. Their first award, Best Use of Search - Third Sector, as well as their second award, Best Mobile Campaign, are just two additional testaments to the agency's status as Google Premier Partners, a title claimed by the top 1% of digital marketing firms across the United States.
To view the entire list of US Search Awards winners, please visit https://www.ussearchawards.com/2019-Winners.
Under the guidance of the agency's founder and president, Lance Bachmann, 1SEO takes a unique approach to give their array of clients the best possible return on investment through producing award-winning results, transparent communications, and customer service that is second to none across the industry.
Having opened their first office in 2009 with only a handful of determined search professionals, the company has grown rapidly and 1SEO.com is home to over 100 employees, now offering a full-suite of custom-tailored digital solutions including: SEO, PPC, optimized web content, social media marketing, web design/development, Managed I.T. services, and much more for their hundreds of clients ranging from local mom-and-pop shops to international enterprises.
To find out more information about 1SEO.com Digital Agency, business owners are encouraged to visit their website to view the agency's services, client testimonials, award-winning case studies, and to download a free copy of their e-book "The 5 Building Blocks of a Successful Digital Marketing Campaign", and take the first steps towards outpacing the competition and winning online today.
About 1SEO.com Digital Agency:
1SEO.com Digital Agency is a Philadelphia, PA-based digital marketing firm and managed I.T. service provider offering end-to-end solutions for their clientele, which is comprised of hundreds of businesses in countless industries that operate in several sectors, from the niche to the mainstream. With a full range of services, including social media optimization, content marketing, search engine optimization (SEO), web development, pay per click (PPC), proactive I.T. support, and managed I.T. services, 1SEO.com Digital Agency helps their clients win online and maximizes the efficiency and security of their I.T. infrastructure.
For more information, please visit https://1seo.com