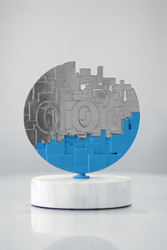 BRISTOL, Pa. (PRWEB) July 26, 2019
1SEO I.T. Support and Digital Marketing is proud to announce that the company has won not just one, but three Platinum awards from the prestigious 2019 dotComm Awards.
As an international competition, the dotCOMM Awards honors excellence in digital communication and web creativity. The competition highlights the role of creatives in the dynamic and constantly evolving web, offering third-party recognition from the Association of Marketing and Communication Professionals (AMCP), one of the world's most recognized and highly-regarded evaluators of creative work. Winning a dotCOMM award signifies to clients, prospects, and competitors that the winner's web and digital marketing work is among the best in the industry.
1SEO took home awards in the categories of eCommerce Campaign, SEO Campaign, and Social Media Marketing: Facebook campaign for their work with three distinct clients. The awards were, respectively, earned for "Dress to Impress, Campaign for Success" on behalf of an online formal wear shop, "If You Buy Annuities & You Need Leads Now" for a leading purchaser of structured settlements, and "Worlds Apart, Uniting Audiences in Harmony" for an international a cappella group.
The team at 1SEO I.T. Support and Digital Marketing looks forward to breaking new ground in achieving success for their clients in the many months and years ahead. Business owners who wish to learn more about how they can grow and protect their business are invited to check out what 1SEO is all about by visiting https://1seo.com/ today.
About 1SEO I.T. Support & Digital Marketing
1SEO I.T. Support & Digital Marketing is a Philadelphia, PA-based digital marketing firm and managed I.T. service provider offering end-to-end solutions for their clientele, which is comprised of hundreds of businesses in countless industries that operate in several sectors, from the niche to the mainstream. With a full range of services, including social media optimization, content marketing, search engine optimization (SEO), web development, pay per click (PPC), proactive I.T. support, and managed I.T. services, 1SEO I.T. Support & Digital Marketing helps their clients win online and maximizes the efficiency and security of their I.T. infrastructure.
For more information, please visit https://1seo.com/. Or check them out on Facebook at https://www.facebook.com/1seoitdigital/ and on Twitter @1SEOITDigital.